Look for the label as you plan for fall tailgating season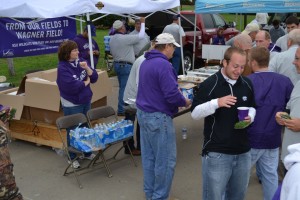 Each year, millions of Americans celebrate the return of football and host tailgate parties in anticipation of another weekend kickoff. By purchasing eco-friendly products, bearing the USDA Certified Biobased Product label, consumers can help support a winning team in America's farmers.
Biobased products are goods composed, either wholly or significantly, from agricultural, forestry or marine materials. The USDA BioPreferred program encourages consumers to consider purchasing biobased products and look for the label – the USDA Certified Biobased Product label. Independent labs verify all biobased-content claims, and the USDA monitors those claims. That means consumers can feel secure in the accuracy of the biobased content and be empowered by making better-informed purchasing decisions.
Products made from U.S. soy range from disposable plates, cups and utensils for easy cleanup, as well as napkins with designs printed on soy-based ink. Other soy-based, tailgate must-haves are:
lip care
hand cleaners and sanitizers
grill cleaners
and a variety of all-purpose cleaning products.
As you create culinary delights for this fall's tailgate extravaganzas, head to the store and look for products carrying the USDA Certified Biobased Product label. The natural materials used in their making promote American job creation – from the farm to the factory.