Category Archives: Biobased Solutions Newsletter
NU Green Soya® Particleboard Scores Environmental Certifications
When it comes to building value into products, Uniboard believes green chemistry and soybeans are a winning combination. The company recently developed a particleboard made of soy-based adhesive and recycled wood that helps builders earn Leadership in Energy and Environmental Design (LEED) points, saves long-term building operating expenses, and helps save the environment.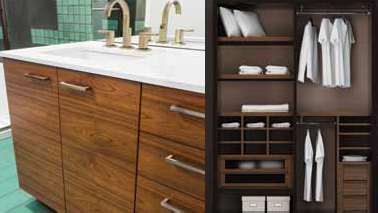 Uniboard Nu Green Soya uses a patented water-based soy resin, formulated with soy flour and a proprietary cross-linking resin, to form a durable and water-resistant thermoset adhesive. Made from a renewable feedstock, the soy-based adhesive technology is cost-competitive against other adhesives.
The company says no formaldehyde is added to the soy resin. NU Green Soya is NAF/ULEF (Ultra Low Emission Formaldehyde) certified by the Composite Panel Association. This designation, determined by the California Air Resources Board (CARB), is intended only for products with formaldehyde emissions below 0.04 ppm. Uniboard says NU Green SOYA is consistently 0.00 ppm.
NU Green SOYA NAF/ULEF particleboard can help building contractors and owners achieve up to six LEED points, based on the U.S. Green Building Council (USGBC) NC-2009 standard. Certified by the Forest Stewardship Council, it contains 100 percent recycled and recovered wood fiber (pre-consumer) which saves trees.
The particleboard is available in a collection of colors, sizes and thicknesses through an extensive network of distributors. The panels can be used in a variety of applications, including cabinetry, furniture and closets.
To learn more about Uniboard NU Green SOYA technology and certifications, visit www.uniboard.com/nu-green-soya.
New Industrial Uses for Soy Showcased at TAP Meetings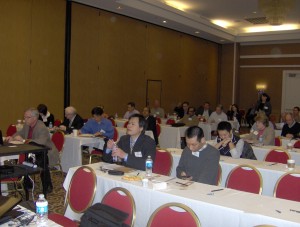 Approximately 50 participants, representing the value chain from universities to suppliers and manufacturers, met in St. Louis recently to discuss the latest soy technology at two different Technical Advisory Panel (TAP) meetings.
The purpose of the TAP meetings, sponsored by the United Soybean Board, is to showcase the latest soy research and commercial development and to provide a forum for researchers to build their network of resources. One meeting focused on adhesives and paper, while the other showcased coatings and inks.
Highlights of the 22 presentations included:
• A low-viscosity barrier coating for packaging that can emulsify high fractions of oils and waxes
• A cost effective, soy-coating binder by Applied Protein Systems for paper applications, currently being evaluated by the company's development partner
• An integrated soy biorefinery to produce both animal/aquaculture feeds and bio-based chemicals
• A project by North Carolina State University that uses soybean meal lipoxygenase to break down plastic and adhesive contaminants called "stickies" in paper recycling
• Feasibility studies by Western Michigan University on producing chitosan used as a paper coating through fungal solid-state fermentation of soybean meal
• A soy-phenol-formaldehyde-resin combination for use in oriented strand board core applications by the University of Auburn that is more sustainable, releases less formaldehyde and costs less than existing resins
• Studies of soy properties in wood bonding by Forest Product Laboratories
• Soybean oil as an impact modifier in epoxy coatings, developed by 1st Source Research
• Soy derivatives to replace both paraffin wax in cardboard produce boxes and a carnauba wax substitute by Iowa State University
• Recyclability metrics by Western Michigan University
• Coatings incorporating soy flour by Rust-Oleum
• A one-year study by Battelle to produce a technology route to manufacture a C19 diacid from soy high oleic acid
• A novel approach by Sherwin Williams to incorporate soy isolates in thermoplastic hybrid formulations
• Results from a University of Tennessee project to produce acrolein and acrylic acid from crude glycerin
To request more information on TAP meetings or research findings, contact us at www.soynewuses.org.
Soy-Based Adhesives Mussel Out Formaldehyde to Meet New Regulations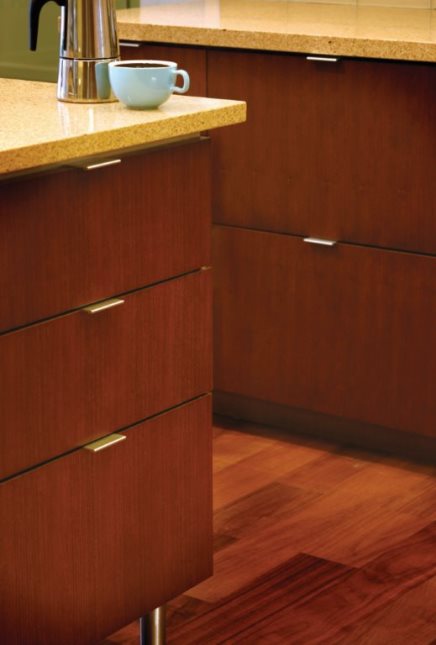 A decade ago, the International Agency for Cancer Research reclassified formaldehyde from a suspect carcinogen to a known carcinogen. With United Soybean Board (USB) support, Kaichang Li, an associate professor of wood science and engineering at Oregon State University, developed a soy-based formaldehyde-free resin that bonded wood like a mussel to a wet rock.
The technology was commercialized, resulting in the sale of more than 50 million formaldehyde-free plywood panels under the brand PureBond®.
New rules proposed by the Environmental Protection Agency (EPA) are giving researchers and manufacturers an even greater incentive to think soy. The proposed EPA rules set limits on how much formaldehyde may be released from engineered woods. The rules cover hardwood plywood, medium-density fiberboard, particleboard and finished goods containing urea-formaldehyde (UF)that are sold, supplied, offered for sale or manufactured in the United States or those imported into the country. This covers products ranging from wood paneling and home furnishings to glues, pastes, antibacterial items, shampoo, paper towels, paper stickers, phenolic resins and urea plastics used to make things like buttons and shoes.
A second proposal establishes the requirement of a third-party certification to ensure manufacturers of composite wood products meet Toxic Substances Control Act (TSCA) formaldehyde-emission standards. The emission standards are identical to those currently in place under the California Air Resources Board Airborne Toxic Control Measure.
The Science of Soybeans Unlike petrochemical-based wood adhesives,soy-based formulations reduce the release of volatile organic compounds. Soy flour has also proven to be an ideal raw material for making wood adhesives because it is abundant and usually costs less than petrochemicals. The relatively low cost of soy meal/flour versus petrochemical-based products has added value for manufacturers.
Although urea and phenol formaldehyde have not been completely replaced by soy in all wood adhesives, even a partial replacement can represent large cost savings. As concerns about environmental exposure to formaldehyde continue to surface, cost-competitive, versatile soy-based wood adhesives are the natural choice in adhesive formulations. To learn more about new soy-based adhesives for wood, check out the 2014 Soy Products Guide at www.SoyNewUses.org.
Biobased Solutions is the flagship newsletter of USB New Uses, covering advances in soy research and development. Each issue transmits electronically every two months and highlights four stories in soy technology and soy-based product success. To subscribe to Biobased Solutions, contact Deborah Dugan at Deborah.Dugan@osbornbarr.com.
Columbia Forest Products Helps Soy-Based Adhesive Technology Branch Out
By the end of 2007, Columbia Forest Products had converted all seven of its hardwood-plywood plants from urea-formaldehyde-based adhesive systems to a soy-based formulation. The company subsequently sold more than 50 million PureBond® formaldehyde-free hardwood-plywood panels.
Encouraged by the response of DIYers who bought panels from home-improvement stores, Columbia branched out and created the PureBond Fabricator Network™ (PFN). This partnership of more than 850 craftsmen, cabinet shops and fabrication businesses identifies itself as leading-edge suppliers who are thoughtful about the material they use and the concern customers have with good air quality.
A gallery of stunning installations on the website provides design inspiration. When the time comes to find a fabricator, the interactive locator makes it easy for architects, builders, general contractors and homeowners to match their needs.
Crestwood, Inc., a high-quality cabinetry maker from Salina, Kan., was one of the first companies to join the network, citing a desire to be part of the "green" movement. The company states it is what its customers are looking for, and PureBond lets them provide a healthier alternative at no extra cost.
To learn more about Columbia Forest Products PureBond technology, visit www.ColumbiaForestProducts.com/PureBond. To learn more about Crestwood cabinetry, visit www.crestwood-inc.com. And check out hundreds of soy-based building products in the United Soybean Board's 2015 Soy Products Guide at www.SoyNewUses.org.
Research Continues on Soyad™ Wood Adhesives
After the U.S. government declared formaldehyde as a known carcinogen, researchers
rushed to find a cost-effective alternative. Support from the United Soybean Board (USB) helped Ashland produce Soyad™ adhesives — patented, water-based products made by mixing protein-rich soy flour with a proprietary cross-linking resin. Today, Soyad adhesives are used by composite wood-product manufacturers that want to improve indoor air quality and stay ahead of formaldehyde-emissions regulations. Changing regulations represent market opportunities for Ashland.
"Growing marketplace awareness of the impact of formaldehyde-emitting, wood-bonding adhesives on indoor air is driving the escalating interest in our formaldehyde-free Soyad systems," says Melinda Burn, Ph.D., of Ashland Water Technologies. "That awareness, the fact that it's LEED-eligible as a non-added formaldehyde system and that it can be easily substituted for other wood adhesives, makes Soyad's future bright."
Ashland continues to conduct primary research for Soyad adhesives at two facilities located in the United States: the Ashland Research Center in Wilmington, Del., and the U.S. Department of Agriculture's Forest Products Laboratory in Madison, Wis. Scientists at the Ashland Research Center discover new products and processes, improve and refine existing products and processes, and develop new applications for existing products. The Forest Products Laboratory houses world-class pilot testing equipment for producing plywood, particleboard, medium-density fiberboard and oriented strand board.
Since 2006, Ashland has been granted seven patents for wood-products adhesives and has another 18 patents pending, demonstrating the company's commitment to developing innovative solutions for interior wood products.
Ashland's Customer Applications labs are located regionally in Wilmington, Del.; Krefeld, Germany; Shanghai, China; and Paulinia, Brazil. Analytical and process-testing equipment at each location enable scientists to analyze and identify customer problems rapidly, compare the impact of system additives in various industrial systems and select the best chemistry or program to address a customer's process needs.
To learn more about Ashland's Soyad adhesives, visit www.ashland.com/products/soyad-adhesives.
Flooring Contractors Stick with Soy-Based Adhesives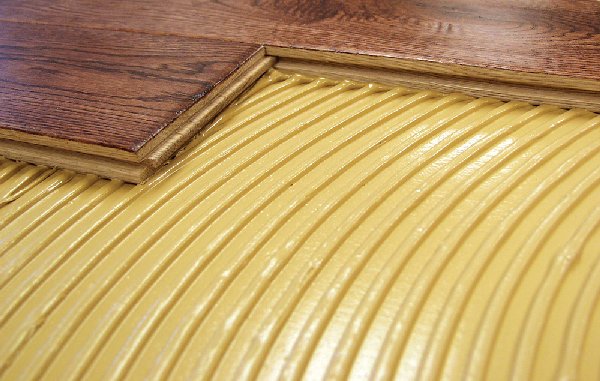 Building inhabitants touch flooring all day long. Closer to home, babies crawl on it and the family pet may even sleep on it. That's why health concerns about the effects of formaldehyde and other possible carcinogens are focusing the attention of architects, contractors and building owners on what lies underfoot.
This has led to the development of soy-based foam that replaces petrochemicals in carpet backing; soy-based floor cleaning products; and soy-based adhesives that replace formaldehyde in wood composites and in adhesives that secure flooring.
W.F. Taylor Co. has been researching ways to eliminate chemicals in floor adhesives for more than two decades. The company recently introduced a patented technology called Meta-tec® that uses soy-based feedstocks to help contractors and building inhabitants breathe easier.
According to the company Meta-tec products are low in volatile organic compounds (VOCs). They contain no harmful chemicals and are anti-microbial. The products use cross-linking chemistry technology to create a permanent bond that, when fully cured, is waterproof, extremely strong and environmentally friendly. The products are one-part formulations that replace and outperform more costly epoxy, urethane and acrylic adhesives and are easy to use, easy to clean up and very installer friendly.
Meta-tec Wood Flooring Adhesive was used in the Green Idea House, a net-zero, zero-carbon house-renovation project that Southern California Edison chose as a cornerstone case study of sustainability and efficiency in 2012. The consulting firm overseeing flooring installation on the site reported Meta-tec worked flawlessly. There was no odor, and the installers liked working with it.
In addition to excellent bonding properties for all types of wood flooring and bamboo, Taylor Meta-Tec MS-Plus Advance inhibits concrete moisture inhibition and provides sound deadening, which is important for multistoried buildings.
Meta-tec flooring adhesives are certified by the Greenguard Environmental Institute to help earn LEED credits. They come in 11 formulations that are tailored to bond-specific flooring substrates.
Visit www.wftaylor.com/index.php/1006/mspa/ for more information on Meta-Tec soy-based flooring adhesives. To find other soy-based flooring products that have been developed with support from the United Soybean Board, flip through the 2015 Soy Products Guide.
Green Chemistry = Think Soy
Who can forget Kermit the Frog's sad proclamation that it's not easy being green? Decades later, researchers and product developers are proving the famous chartreuse amphibian wrong by using soy-based technology to fulfill green chemistry principles.
Using soybean meal and oil as feedstock in products can help make them more renewable and environmentally friendly while maintaining or, in some cases, exceeding, performance. Soy-based products also often contain fewer volatile organic compounds (VOCs) than traditional products.
Principle Improvements
Tighter VOC regulations from the Environmental Protection Agency (EPA) to lower solvent levels prompted manufacturers to move from solvent-borne paints to waterborne coatings. With support from the United Soybean Board (USB), researchers at Sherwin Williams developed a new paint formulation that utilizes soybean oil and recycled plastic bottles (PET). The technology reduces VOCs by 60 percent and earned Sherwin-Williams and USB a 2011 Presidential Green Chemistry Award.
Ten products, including ProClassic® Interior Waterborne Acrylic-Alkyd, ProMar® 200 Interior Waterbased Acrylic-AlkydandPro Industrial™ Enamel 100, are currently certified under the EPA's BioPreferred program.
Soy-based products by Sherwin-Williams have also achieved GREENGUARD Gold certification and satisfy new Leadership in Energy and Environmental Design (LEED) v4 guidelines for specifiers, while meeting performance, aesthetic and budget requirements.
When formaldehyde was identified as a possible carcinogen and air pollutant, Columbia Forest Products proactively sourced an affordable replacement in the manufacture of hardwood plywood veneers called Purebond™. A soy-based adhesive enabled the company to eliminate formaldehyde from products at virtually the same cost.
Columbia Forest Products converted all of its North American mills and says emissions from pressing operations have been eliminated. Mill employees are no longer exposed to formaldehyde fumes, and Purebond panels protect consumers from formaldehyde off-gassing.
Universal Textile Technologies also worked to improve indoor air quality by creating carpet backing that replaces up to 100 percent of petrochemicals with soy-based polyols. The carpet is low in VOCs and uses recycled materials.
Enhanced Product Performance

In addition to the environmental benefits, soy can improve product performance.
According to Rust-Oleum, using coatings made with soy oil imparts a warmth to wood that's absent when using conventional water-based stains.
Columbia Forest Products observed that while the bond and strength of soy-based adhesives are the same as formaldehyde's, soy's water resistance is better. The water base also makes soy-based wood adhesives easier to clean up.
USB helps promote green chemistry principles by supporting research and development of applications with the best chance at increasing demand for U.S. soy.
Last year, USB funded research on soy plastics, coatings, inks, solvents, adhesives and applications in new markets not yet developed. Check out more than 860 soy-based products, 142 feedstocks and 212 companies that sell them by accessing the 2014 Soy Products Guide (link).
Check out the latest soy-based materials in the Soy Products Guide.

Biobased Solutions is the flagship newsletter of USB New Uses, covering advances in soy research and development. Each issue transmits electronically every two months and highlights four stories in soy technology and soy-based product success. To subscribe to Biobased Solutions, contact Deborah Dugan at Deborah.Dugan@osbornbarr.com.
Soy-Based Replay™ Paves the Way to Transportation Savings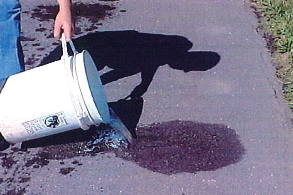 A 2012 report by the U.S. Treasury Department revealed that motorists waste 1.9 billion gallons of fuel each year in traffic jams, costing Americans $100 billion (factoring in time and fuel). To keep traffic moving, the report recommended faster — and fewer — road repairs.
Research by the Minnesota Local Technical Assistance Program (LTAP) Center for Transportation Studies demonstrates how Replay, a soy-based pavement-preservation agent developed with United Soybean Board support, can extend the life of existing asphalt services.
Asphalt oxidizes and wears out when exposed to oxygen in the air. Small cracks form in the asphalt and fill with water, which freezes in cold temperatures, causing larger cracks and potholes. Petroleum-based asphalt sealers can be harmful and inconvenient in areas with high volumes of pedestrian traffic.
After removing debris, the city of Hutchinson, Minn., applied Replay to two test sections of pavement: an old area with pronounced cracking and a new stretch with only minor deterioration. Both pavements were dry to the touch within 30 minutes of application.
To evaluate Replay's effectiveness, the city poured water onto each surface before and after the material was applied. Water appeared to wick into the pavement of both surfaces before Replay application.
After Replay was applied, water quickly ran off the surfaces with no environmental contamination. Unlike other sealants, Replay did not become soft and sticky during hot weather periods and did not affect the skid resistance of the surfaces.
Traditional asphalt surfaces can last an average of 10-12 years when sealed. BioSpan Technologies says Replay can extend surface life spans two to four times longer. This helps reduce road repair costs, prevents traffic jams, and saves consumers time and wasted fuel.
Sherwin-Williams Maintains LEED on Soy-Based Coatings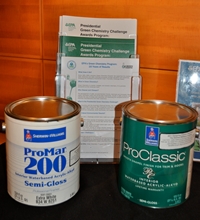 LEED, or Leadership in Energy & Environmental Design, provides third-party verification of green buildings based on their entire life cycle. As new building technology evolves, so do the certification standards. LEED's most recent overhaul resulted in a search by applicators and specifiers for coatings that will meet the new LEED v4 requirements.
One product that meets the new requirements is Sherwin-Williams ProClassic® Waterbased Acrylic Alkyd Interior Paint, which contains soy. The product, and others currently being developed with research support from the United Soybean Board (USB) demonstrate a shared commitment in leading sustainability efforts through the development of technology that meets or exceeds LEED standards.
"Our partnership with USB is about driving innovation and utilizing a renewable raw material," says Steve Revnew, vice president of product innovation for Sherwin-Williams. "Soy is an excellent product to use because it's a renewable resource and can help create an environmentally responsible formulation."
Sherwin-Williams and USB earned the Environmental Protection Agency (EPA) Presidential Green Chemistry Challenge Award in 2011 for developing a paint made from soybean oil and recycled plastic bottles that reduced volatile organic compounds (VOCs) by 60 percent.
Ten Sherwin-Williams products, including ProClassic Interior Waterborne Acrylic-Alkyd, ProMar® 200 Interior Waterbased Acrylic-Alkyd and Pro Industrial™ Enamel 100, are also currently certified by the EPA's BioPreferred® program.
Soy Dielectric Insulating Fluid Earns Presidential Green Chemistry Award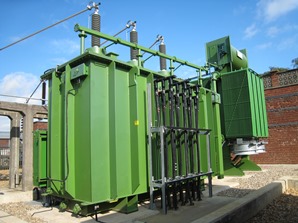 High-voltage electric transformers require an insulating fluid to prevent short circuiting and provide cooling. Polychlorinated biphenyls (PCBs) were used as transformer fluids until they were banned in the 1970s, when mineral oil became the primary replacement. However, mineral oil is flammable and may be toxic to fish.
With support from the United Soybean Board, Cargill, Inc. developed EnvirotempTM FR3TM dielectric fluid that is based on soybean oil instead of petroleum. The soy-based oil can be used to replace mineral oil when retrofilling transformers, which earned Cargill a 2013 Presidential Green Chemistry Award.
The FR3TM fluid is significantly less flammable than mineral oil, greatly reducing the risk of fire or explosion. The soy-based oil also increases the service life of the cellulose insulation five to eight times longer than mineral oil, which extends insulation life and transformer life.
According to a life cycle assessment using the Building for Environmental and Economic Sustainability (BEES®) 4.0 software, a transformer using FR3TM fluid has a lower carbon footprint across the entire life cycle of the transformer. The largest reductions occur in the raw-materials, manufacturing and transportation phases.
The total carbon footprint of an electric transformer is about 55-times lower when using FR3TM fluid compared with mineral oil. This is all in addition to the low toxicity, high biodegradability and the fact that FR3TM fluids are based on a renewable resource.
To date, there have been no known explosions or fires in the hundreds of thousands of transformers filled with FR3TM fluid since the product launched.
FR3TM fluid has achieved numerous industry validations, including EPA's Environmental Technology Verification, the lowest environmental-impact-performance score in a BEES life cycle assessment, USDA Biobased Product certification and certification as a less-flammable fluid by both Underwriters Laboratory and Factory Mutual Research Corporation.
During the 18 years of the Presidential Green Chemistry Challenge program, the Environmental Protection Agency has received about 1,500 nominations and presented awards for 93 technologies. Winning technologies over the lifetime of the program are responsible for reducing the use or generation of more than 826 million pounds of hazardous chemicals, saving 21 billion gallons of water and eliminating the release of the equivalent of 7.8 billion pounds of carbon dioxide to the air.
EnvirotempTM FR3TM dielectric fluid by Cargill replaces mineral oil with soybean oil to increase the service life of the cellulose insulation in transformers five to eight times longer.