← USB Program Helps Mid-Atlantic Fair Cool Down and Go Green
AGROL® Soy-Based Polyols Expand Market Potential of Polyurethane Foam →
Biobased Stakeholders Convene to Discuss Opportunities for Market Growth
September 21, 2012
Last month, the United Soybean Board (USB) and Michigan Soybean Promotion Committee hosted a Biobased Products Stakeholders' Workshop at the Ford Research and Innovation Center in Dearborn, Mich. The event gathered leaders in business, government and academia to discuss future opportunities for growing the biobased products market in the American economy.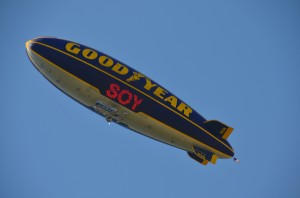 "President Obama and I believe that the biobased economy is critically important to America's future," said U.S. Secretary of Agriculture Tom Vilsack. "Through a strong biobased economy, America can out-build and out-innovate the world, and we'll create more jobs across our nation that can't be shipped overseas. We know that committed support for the growing biobased economy is key to strengthening economic growth and opportunity."
Biodiesel-powered buses shuttled attendees to Ford Motor Co.'s Cherry Hill Farm, where representatives from Michigan's state parks and conservation groups stressed the importance of USB investments in soy-based products for increasing sustainability efforts – both on and off the farm.
"From seat cushions to gaskets and headrests, soy is used today in every vehicle we produce in North America as part of an effort to make our products more environmentally friendly," said Ford's Vice President of Sustainability, Environment and Safety Engineering Robert Brown. "The use of soy and soybean oil has helped us reduce our petroleum oil usage by more than 5 million pounds annually and carbon dioxide emissions by more than 20 million pounds."
For information about new uses for soy in the development of biobased products, including a catalog of soy products and target markets, visit USB's website www.SoyNewUses.org.
This entry was posted in
Biobased Solutions Newsletter
,
September 2012 issue
. Bookmark the
permalink
.
← USB Program Helps Mid-Atlantic Fair Cool Down and Go Green
AGROL® Soy-Based Polyols Expand Market Potential of Polyurethane Foam →
©2017 Copyright United Soybean Board. All Rights Reserved