← Get back in the saddle with Impact Gel
PAINTBALL COMPANY MAKES ITS MARK WITH SOY →
E2E MATERIALS' NEW E2E OFFICE BRAND WINS GOLD BY GOING GREEN
September 21, 2012
Over the last few years, e2e Materials has seen its soy-based biocomposites utilized in products ranging from home furniture to skateboard decks. This summer, the Ithaca, N.Y.-based company announced that it had "gone corporate" with e2e OFFICE™, a new brand of office products that are safer, stronger, lighter and more affordable than conventional wood-based alternatives.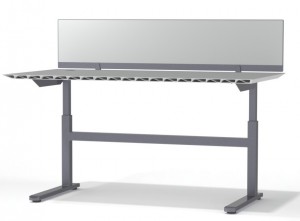 The first commercially available product from the e2e OFFICE brand, the TransFORM™ WorkStation, won Gold and Innovation Awards in the Best of NeoCon 2012 competition, the contract furnishings industry's premier event. Subsequent branded product offerings include privacy panels and noise-reducing office acoustics – with a mobile whiteboard slated to debut in the near future.
"Winning the highly coveted Best of NeoCon Innovation Award is especially gratifying because only a shortlist of vendors demonstrating remarkable new ideas in commercial interior design and furnishings is selected," said Pat Govang, CEO of e2e OFFICE. "And as a clean technology company, we're thrilled to be recognized for bringing a breakthrough product to market that is environmentally friendly and contributes significantly to LEED certification."
During a TEDxTalk delivered this summer, Govang attributed e2e's cost competitiveness to an eco-friendly business model that sources biobased materials from within a 500-mile radius of its production facility in Geneva, N.Y. The company estimates that for every manufacturing job created through its products, an additional five agricultural jobs are generated. Meanwhile, customers save by purchasing a product that has traveled only 700 miles from the farm fields to the store shelves, as compared to conventional products shipped to China for assembly and back for a collective journey of more than 21,000 miles.
"When people come to us and say that American manufacturing is dead, we say, 'Nonsense,'" said Govang. "Innovation can create true green-collar American jobs by servicing customers with greater products that are cheaper, smarter and easier to make."
To learn more about e2e Materials, visit www.e2ematerials.com and www.e2eoffice.com.
This entry was posted in
Biobased Solutions Newsletter
,
September 2012 issue
. Bookmark the
permalink
.
← Get back in the saddle with Impact Gel
PAINTBALL COMPANY MAKES ITS MARK WITH SOY →
©2017 Copyright United Soybean Board. All Rights Reserved