← Look for the label as you plan for fall tailgating season
New biobased product categories announced for preferred Federal procurement →
USDA BioPreferred Program marks first-year anniversary of Certified Biobased Product Label
August 31, 2012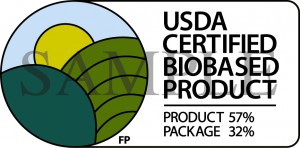 The U.S. Department of Agriculture (USDA) marked the first-year anniversary of the BioPreferred Program's voluntary USDA Certified Biobased Product labeling program this spring. The voluntary label program allows manufacturers and distributors to verify the biobased content in their product or package.
Agriculture Secretary Tom Vilsack noted these USDA-certified biobased products are available to consumers, and appear on the shelves of supermarkets and other businesses across the country.
"The USDA and the Obama administration are working with private industry to strengthen and transition to a bioeconomy," Vilsack said. "Making continuing improvements to the operations of the BioPreferred program is another way USDA is working to support the expansion of an economy that replaces fossil-based materials and creates jobs all through the value chain, from the farm to the finished product."
The certification verifies that the product's amount of renewable biobased ingredients meet or exceed minimum biobased content levels set by USDA. All biobased amount claims are verified by independent labs and monitored by the USDA.
"We are very pleased to celebrate the USDA Certified Biobased Product label anniversary and its continued success," said Kate Lewis, USDA BioPreferred Program deputy manager. "Biobased products help meet consumer demand to supplement or replace a wide variety of petroleum-based products. The companies we work with, who apply for the USDA Certified Biobased Product label, understand the value of the BioPreferred program in promoting their biobased products as well as helping create jobs in rural communities by adding value to agricultural commodities."
About USDA BioPreferred
The USDA BioPreferred program was created by the Farm Security and Rural Investment Act of 2002 (2002 Farm Bill), and expanded by the Food, Conservation, and Energy Act of 2008 (2008 Farm Bill). The purpose is to increase the purchase and use of biobased products. The United States Department of Agriculture manages the program. Products that meet the USDA BioPreferred program requirements carry a distinctive label for easier identification by the consumer.
To learn more about the USDA Certified Biobased Product Label please visit www.biopreferred.gov, and follow on Twitter at http://twitter.com/BioPreferred.

This entry was posted in
August 2012 issue
,
Biobased Solutions Newsletter
. Bookmark the
permalink
.
← Look for the label as you plan for fall tailgating season
New biobased product categories announced for preferred Federal procurement →
©2017 Copyright United Soybean Board. All Rights Reserved