Envirez Uses Soy for Wide Range of Plastic Applications
March, 2007
Ashland Composite Polymers, a business group of Ashland Performance Materials, a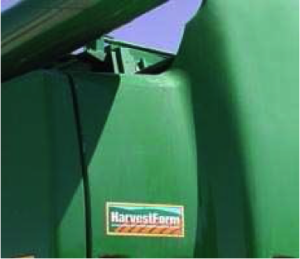 division of Ashland, Inc. has expanded its ENVIREZ line of polyester resins used in sheet-moldingcompound (SMC) for the compression-molding market, with support from the United Soybean Board (USB) and soybean checkoff.
This resin is ideal for a variety of applications used in the transportation, marine, agricultural, off-road and construction industries. ENVIREZ composite resins are made of soybeans and incorporated into applications such as new model tractor hoods for both John Deere and Case New Holland. The resin is suitable for many general purpose applications and can be blended with most standard fillers, initiators and inhibitors to create blended resins. Twenty-five percent of the raw materials in the ENVIREZ resins are derived from renewable resources, including soy oil and corn-derived ethanol. The resins are specifically formulated and can be blended with standard unsaturated polyester resins to meet specific requirements. "As compared to similar general purpose resins that are formulated entirely with petroleum-derived raw ingredients, ENVIREZ contains renewable crop-based components which have added to its overall marketability," says Dwight Rust, Ashland Specialty Chemical Company. "Each batch of ENVIREZ resin is estimated to save 10 barrels of petroleum, resulting in a potential greenhouse gas reduction of 34,000 pounds."
The ENVIREZ resins are currently used in several commercial processes, and provide surface finishes when used in press molding, resin transfer molding (RTM) and infusion. The resins produce a variety of parts from exterior body panels for agricultural and construction equipment to other small parts for the transportation and marine industries. Several additional trials featuring Envirez are ongoing and examples of the current product line are as follows:
_ ENVIREZ – a soy-based resin for small utility trailers via the tool less engineered composites process – Ashland with Plastics Unlimited.
_ ENVIREZ 1807 – thermoset polyester formulated for vacuum bag process for fan shrouds – Ashland with Plastics Unlimited plus others.
_ ENVIREZ 1807 – this product is also used as a soy-based resin via pultrusion process for building materials – Ashland with Polygon.
_ ENVIREZ 5000 – a low profile, thermoset sheet molding compound for new model tractor hoods and covers – Ashland with Ashley Industrial Molding for Deere and Case New Holland. _
ENVIREZ 6934 – an infusion resin molded into small parts for over-the-road trucks as a precursor to molding larger parts – Ashland with Core Molding Technologies.
_ Green BMC – a 100 percent soy-based resin based on modified ENVIREZ 1807 for clmolding applications targeted at automotive – Ashland with BMCI.
The specific physical properties of each Envirez resin formulation vary depending upon the application for which it was developed. At this time, Envirez resins are not recommended for applications requiring corrosion resistance.