Paintball Company Makes its Mark with Soy
2012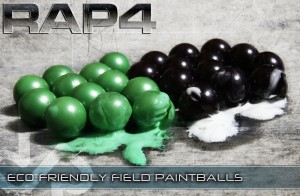 The sport of paintball began in the early 1980s and has grown to a billion-dollar industry. Today, 30 million people in the United States play the game at least once a year, and they spend an estimated $600 million on paintballs, according to the Sporting Goods Manufacturers Association. Thanks to a new soy-based paintball, these colorful marksmen can now use a more environmentally friendly type of ammunition.
Eco Friendly Field Paintballs, from Real Action Paintball Inc. (RAP4), contain fill that partially replaces polyethylene glycol with U.S. soybean oil. The new paintballs are easy on the environment and safe to use around wildlife and water sources, and they have similar uniformity, marking characteristics and ballistics to traditional paintballs.
"RAP4 decided to use soybean alternatives because we wanted to reduce the sport's environmental impact by creating a paintball that is more environmentally friendly," says RAP4's Jason Barrett. "Since releasing our Eco Friendly Field Paintballs in 2010, we've seen an increase in demand from paintball fields all over the globe."
RAP4 is just one example of the many companies fine-tuning their products to include more renewable resources in order to meet consumer demand.
"Real Action Paintball Inc. is proud to lead the industry in 'going green' by introducing the RAP4 Field Paint with natural, biodegradable soybean oil," Barrett adds. "We are proud to offer paintball enthusiasts with an environmentally friendly and affordable paintball option."
In addition to being environmentally friendly, Eco Friendly Field Paintballs and other soy-based products offer benefits to U.S. soybean farmers and the U.S. economy. The United Soybean Board provides funding for research and development of new industrial and consumer products that can increase demand for U.S. soy.
To learn more about RAP4's Eco Friendly Field Paintballs, visit www.RAP4.com.