Sherwin-Williams Maintains LEED on Soy-Based Coatings
February, 2014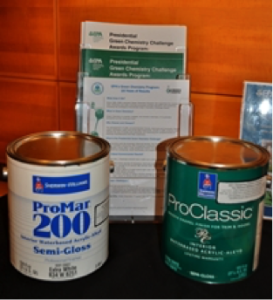 LEED, or Leadership in Energy & Environmental Design, provides third-party verification of green buildings based on their entire life cycle. As new building technology evolves, so do the certification standards. LEED's most recent overhaul resulted in a search by applicators and specifiers for coatings that will meet the new LEED v4 requirements.
One product that meets the new requirements is Sherwin-Williams ProClassic® Waterbased Acrylic Alkyd Interior Paint, which contains soy. The product, and others currently being developed with research support from the United Soybean Board (USB) demonstrate a shared commitment in leading sustainability efforts through the development of technology that meets or exceeds LEED standards.
"Our partnership with USB is about driving innovation and utilizing a renewable raw material," says Steve Revnew, vice president of product innovation for Sherwin-Williams. "Soy is an excellent product to use because it's a renewable resource and can help create an environmentally responsible formulation."
Sherwin-Williams and USB earned the Environmental Protection Agency (EPA) Presidential Green Chemistry Challenge Award in 2011 for developing a paint made from soybean oil and recycled plastic bottles that reduced volatile organic compounds (VOCs) by 60 percent.
Ten Sherwin-Williams products, including ProClassic Interior Waterborne Acrylic-Alkyd, ProMar® 200 Interior Waterbased Acrylic-Alkyd and Pro Industrial™ Enamel 100, are also currently certified by the EPA's BioPreferred® program.