Soy-Based Coatings Have the Market Covered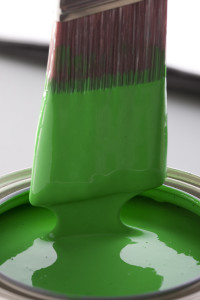 January, 2006
More than 15 years ago, soy-based coatings hit the market in the form of soy ink in newspapers throughout the United States. Since that time, 90 percent of the America's 1,500 daily newspapers use soy ink in their presses. From that success, soy-based coatings, such as wood and concrete stains, caulking and other building products, have been developed and are making a mark on consumers. Thanks in part to research and funding from the United Soybean Board (USB) and soybean checkoff, soy-based coatings have shown their versatility in new applications, including ultraviolet and electron beam curing, roof coatings and faux finishing in building artwork.
"The United Soybean Board has been at the forefront for well over a decade in developing soy-based coatings, particularly soy inks," says Todd Allen, chair of USB's New Uses Committee. "Thanks to the support of our industry partners, we can proudly say that we are beginning to make an impact in new coatings markets beyond soy ink. Now we are looking to products like stains and roof coatings to make a big splash in the near future, particular in the building industry."
Soybean oil is the most readily available and one of the most cost-effective vegetable oils in the world today. For many years, soybean oil has been a major ingredient in making alkyd resins, which are dissolved in carrier solvents to make oil-based paints. With the growing popularity of latex, or waterborne paints the market for alkyd resins made from soybean oil has declined, particularly in the area of architectural coatings.
USB was not dissuaded by the success of latex paints. Instead, the organization focused on developing three specialized areas using soybean derivatives: creating stable, waterborne architectural coatings; finding high-performance, volatile organic compound (VOC)-free coatings for industrial applications; and developing new 100 percent solids powder coatings. All projects currently funded by USB target the use of soybean oil chemically modified in some manner. Complementary work is being funded to modify soybean oil for use in making new printing-ink formulations, such as ink toner for computer printer cartridges.
Soy-based ink and coating successes in specific markets include:
Architectural uses – The majority of USB research projects have focused on developing soy-based compounds useful in making architectural paints. Various methods of modifying soy are being examined, with expected differences in how soy oil will be used, from an additive in existing latex formulations to a completely novel polymer formulation based on soy oil.
Coalescing aids – Current latex systems require the use of a coalescing aid as an additive to enhance the film-forming properties in the cured paint. Many of the current coalescing aids add to the emission of VOCs from latex paints. Work funded by the Missouri Soybean Merchandising Council and USB has led to the commercialization of a soy-oil-based additive that coalesces latex coating systems while reducing VOCs in interior and exterior paints. The Archer Daniels Midland Company has launched the product for use in finished latex paints. The new product is designed to replace current alcohols and glycol ethers, which are popular coalescing aids.
Resin products – Researchers at Eastern Michigan Coating Research Institute have demonstrated significant progress in alleviating yellowing deterioration in soy-based waterborne latex paints. Compared with 100 percent acrylic formulations the new soy-based resin is equal or better in performance. In addition, no coalescing agent is needed, thereby reducing the VOC levels, and the new soy-based resin is more economical as a replacement to acrylics. The new soy-based resin is currently undergoing market development.
Soy inks – Soy ink is beginning to move beyond newspapers as the Battelle Memorial Institute in Columbus, Ohio, has developed a soy-based toner for copy machines and computer printers. Work with other research agencies continues regarding the possibility of soy ink in pens and other writing applications.
UV-EB curing – Researchers at Lehigh University are attempting to develop a soybean-oil-based, solventless, UV-EB curable ink for lithography. The research involves placing soybean oil and a hard resin in the presence of a cross-linking monomer cured by UV light. A proprietary photoinitiator is being used. Because the system is solventless, less-expensive pigments can be used, and solvent recovery is not necessary.
Thanks to USB and checkoff-funded research, a significant number of soy product ideas have become reality. For example, New Century Coatings has developed a line of soy methyl ester stains and sealers with excellent performance properties. These stains are user friendly with deep penetration to extend the life of many different substrates. This technology has been licensed to Cook Composites and Polymers, and New Century Coatings has begun sales to concrete and wood coating retailers. Niemann and Associates has developed a line of soy-based roof coatings. This technology is currently being marketed by Green Product Inc., a leading marketer of environmentally friendly coatings. The white-pigmented coating reflects heat and is superior to asphalt and waterborne emulsions in energy conservation, thereby earning the coveted Energy Star Approval Label. This one-coat, durable waterproof system is easy to apply.
New research is promising and has begun to receive support from major industry players. Soybeans and soybean oil represent a large, stable supply of a natural, renewable raw material. Soybean-oil-based polymers help contribute to the paint industry's major environmental challenge of reducing VOCs and lowering raw material costs. For soy derivatives to regain the share they once enjoyed in the coatings market, paint chemists must first develop new formulations that are both cost-competitive and meet today's performance standards.