Soy Biodiesel Byproduct Helps Combat Cold Weather
The winter months send many to vehicle supply stores in search of antifreeze and deicers. Now thanks to U.S. soy, "greener" versions of both of these products exist. That's because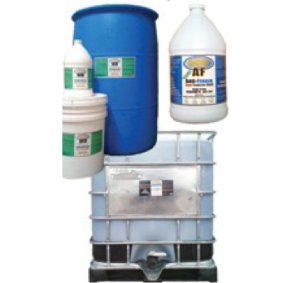 Orison Marketing of Abilene, Texas, has developed a line of products called IceClear® that use a by-product of soy biodiesel production.
"Our patented antifreeze and coolant products utilize glycerin produced as the byproduct of biodiesel production," says Shawn McGlothlin of Orison Marketing. "Soy is the primary source for the biodiesel production." According to the National Biodiesel Board (NBB), most U.S. biodiesel manufacturers utilize a chemical process called transesterification, whereby glycerin is separated from soybean oil, other vegetable oils or fat. The process leaves behind two products – methyl esters (the chemical name for biodiesel) and glycerin. NBB also states that glycerin serves as a valuable byproduct usually sold for use in soaps and other products.
"Cold-weather products from Orison utilizing this technology run the gamut from floor and furnace heat transfer fluid to winterized lavatory fluids."
"Our products are used mainly in the U.S. and Canada in a variety of applications," says McGlothlin. "Uses include aircraft lavatory fluid, pressure testing fluid, directional drilling fluid, concrete cutting fluid, automotive and fleet engine coolant, ballast fluid, chillers, solar energy systems, floor heating systems, wet fire sprinkler systems and water-line winterizers, as well as all-season dust suppressants."
Although Orison's IceClear® products only use a by-product of soy biodiesel production, they still represent a more sustainable alternative than traditional ingredients used in similar products.
"The glycerin obtained from soy biodiesel production replaces petrochemicals as well as other plant and animal fats," says McGlothlin.
"Orison believes soy to be a better, cleaner feedstock to derive the ingredients we need." For more information on Orison, go to www.orisonmarketing.com. For more information on NBB and biodiesel, go to www.nbb.org.
For information on new uses for soy, visit www.soynewuses.org.
USB is made up of 69 farmer-directors who oversee the investments of the soybean checkoff on behalf of all U.S. soybean farmers. Checkoff funds are invested in the areas of animal utilization, human utilization, industrial utilization, industry relations, market access and supply. As stipulated in the Soybean Promotion, Research and Consumer Information Act, USDA's Agricultural