Soy Roof Offers Sustainability, Reliability
September, 2010
By bringing together three different soy-based roofing products and integrating them with traditional materials, Green Products, LLC believes that the complete system represents a more attractive option for greenminded designers and building owners, including the federal government. This system, which Green Products calls its Traditional/Responsible ™ or Hybrid Roofing System ™, includes two different soy-based adhesives and a soy-based reflective coating.
The United Soybean Board (USB) provided funding to help with the research and development behind all three of these products. "The consolidation of these three soy products makes the complete system expone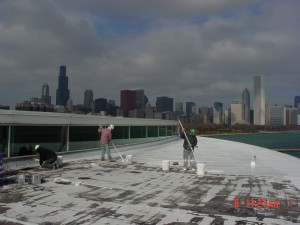 ntially more marketable than the three individual products by themselves," says Green Products CEO Jim Hoselton. "We've always had success with the roof coating. Now, with the addition of these two adhesives, we have a complete roofing system that provides unequaled biobased content."
The system typically uses a standard six-layer construction, including: 1. Naturalock ™, a two-part insulation adhesive with 55 percent biobased content, including soy 2. Traditional isocyanate foam insulation and recovery boards 3. GP-CA, a 26 percent biobased asphalt interply and capsheet adhesive that includes soy 4. Type IV fiberglass felt interply sheets laid on top of the insulation 5. A modified bitumen cap sheet that serves as the weathering surface on the roof 6. One of the company's line of Environmental Liquid Membrane System (ELMS ™) soy-based solar-reflective roof coatings.
Hoselton says some consumers are skeptical of new biobased products. But he says that by combining these biobased fluid components with proven and trusted insulations and membranes, the system becomes a new, unique and complete product that building owners can trust. "People do embrace green products, but consumers feel more secure when some of the traditional components are in there as well," Hoselton says. "Apply this to roofing, and federal purchasing agents as well as environmentally responsible customers and designers will accept this complete, warranted system on its collective merits and not view it as experimental."
According to Hoselton, the federal government prefers the use of these traditonal insulations and modified bitumen membranes now that materials such as thermoplastic olefin (TPO) and polyvinyl chloride (PVC) are no longer approved for federal purchasing. In fact, Hoselton says the entire system may qualify for preferential procurement on hundreds of thousands of government buildings under the U.S. Department of Agriculture's BioPreferred program.
The roofing system also provides more Leadership in Energy and Environmental Design (LEED) opportunity points than any other roof assembly, including vegetative roofs.
To learn more about the components of Green Products' Hybrid Roofing System, visit www.greenproducts.net. To see a list of all soy-based industrial products, visit the online soy products guide at https://soynewuses.org /ProductsGuide/Default.aspx. USB