Soy Wood Sealer Protects Decks and Homeowners
May, 2007
Soy-based technology is now making it possible for consumers to protect outdoor surface with a wood sealer without having to worry about affecting health. SoyGuard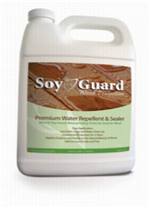 is the only exterior wood sealer that combines superior performance with inherent safety for children, pets and plants. The United Soybean Board (USB) and soybean checkoff did not support the development of SoyGuard; however, the soybean checkoff supports the promotion of new uses for soy products, providing environmentally friendly and safe alternatives to other industrial products. Created from soybean oil, SoyGuard Premium Water Repellent and Wood Sealer, manufactured by BioPreserve, is a biobased, nontoxic wood coating with a low odor and mildew-resistant finish. The repellent is a nonflammable coating and contains no chemicals known to cause cancer and birth defects.
Not only is the product safe for anyone to apply to decks and patios, it has proved it can match other sealers in performance. In an independent comparative analysis, SoyGuard exceeded all industry standards for water repellency and outperformed the leading solvent-based wood sealers and wood waterproofers in preventing swelling, warping and cracking for up to two years. SoyGuard also covers up to 250 square feet per gallon and has less than 50 grams per liter volatile organic compounds (VOCs) for an Ultra Low VOC Clean Air Formula.
Independent testing results indicate that for each gallon of SoyGuard used to protect a wood deck instead of a petrochemical wood sealer or stain, carbon dioxide in the atmosphere is reduced by more than 19 pounds. In addition, Iowa State University tested the sealer using conventional radiocarbon analytical methods and found it to include 91 percent biobased content. "Soy products have great performance and environmental benefits, and the soybean checkoff is working with industry partners to develop opportunities for soy products to replace petroleum products in a number of industrial uses," says Todd Allen, USB New Uses chair and a soybean farmer from West Memphis, Ark. "Soy-based wood sealers have demonstrated performance characteristics consumers are demanding."
To find more information on soy-based patio and deck stains, visit www.soyclean.biz.