Category Archives: Coatings
Chemical Price Trends – 2010 Market Opportunity Study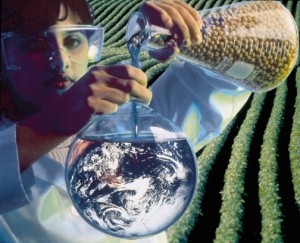 This report details and updates for the end of 2009 specific price changes for a variety of chemicals used to make a wide range of products that either are already being made from soy derivatives or could be made from soy derivatives if affordable technology were available. It also contrasts those changes with the more stable price of soybean oil and soy protein. The price trend report was first done for the United Soybean Board (USB) in 2005, and was updated in 2008. This report for 2010 includes for the first time the implications for soy in the fiber and surfactant market areas. A chart in the report tracks the price change for 15 years for soy oil and meal versus crude petroleum and natural gas as feedstocks for industrial chemical products.
Soy Paints and Coatings – 2009 Market Opportunity Study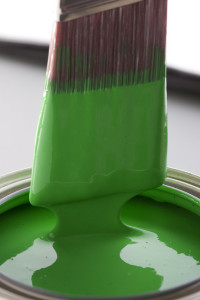 Traditionally, soy oils have been used to make soy alkyd resins for both interior and exterior solvent-based applications. As interest in faster drying, easier to use and
clean-up water-based systems has increased, soy oils can now be used as a general additive, such as binders, co-monomers or oligimers.
Soy Wood Sealer Protects Decks and Homeowners
May, 2007
Soy-based technology is now making it possible for consumers to protect outdoor surface with a wood sealer without having to worry about affecting health. SoyGuard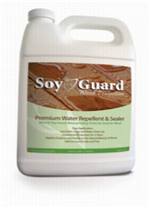 is the only exterior wood sealer that combines superior performance with inherent safety for children, pets and plants. The United Soybean Board (USB) and soybean checkoff did not support the development of SoyGuard; however, the soybean checkoff supports the promotion of new uses for soy products, providing environmentally friendly and safe alternatives to other industrial products. Created from soybean oil, SoyGuard Premium Water Repellent and Wood Sealer, manufactured by BioPreserve, is a biobased, nontoxic wood coating with a low odor and mildew-resistant finish. The repellent is a nonflammable coating and contains no chemicals known to cause cancer and birth defects.
Not only is the product safe for anyone to apply to decks and patios, it has proved it can match other sealers in performance. In an independent comparative analysis, SoyGuard exceeded all industry standards for water repellency and outperformed the leading solvent-based wood sealers and wood waterproofers in preventing swelling, warping and cracking for up to two years. SoyGuard also covers up to 250 square feet per gallon and has less than 50 grams per liter volatile organic compounds (VOCs) for an Ultra Low VOC Clean Air Formula.
Independent testing results indicate that for each gallon of SoyGuard used to protect a wood deck instead of a petrochemical wood sealer or stain, carbon dioxide in the atmosphere is reduced by more than 19 pounds. In addition, Iowa State University tested the sealer using conventional radiocarbon analytical methods and found it to include 91 percent biobased content. "Soy products have great performance and environmental benefits, and the soybean checkoff is working with industry partners to develop opportunities for soy products to replace petroleum products in a number of industrial uses," says Todd Allen, USB New Uses chair and a soybean farmer from West Memphis, Ark. "Soy-based wood sealers have demonstrated performance characteristics consumers are demanding."
To find more information on soy-based patio and deck stains, visit www.soyclean.biz.
Unique Soy-Based Mastic Offers Greener Solution for Waterproofing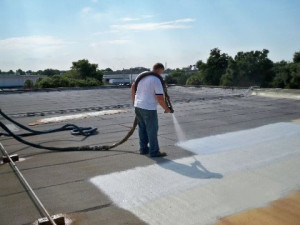 January, 2012
Inventor Lance Niemann of Green Eagle Technologies has developed the first soy-based waterproofing product that can replace traditional petrochemical-based sealants as a less toxic, less carcinogenic alternative for synthetic roofing surfaces.
According to Niemann, G.E.T. Biobased Mastic represents the first and only zero-VOC (volatile organic compound) mastic that has been certified through the ASTM Biobased Certification Program, registered as USDA 2071 with a biobased content of 37 percent. Formulated as a high-viscosity sealant, the mastic boasts excellent adhesion to virtually any roofing surface, including TPO (thermoplastic polyolefin), EPDM (ethylene propylene diene monomer), PVC (polyvinyl chloride) and all metals and plastics.
Once cured, G.E.T. Biobased Mastic reinforces and seals membrane seams. According to Roofing Contractor Association estimates, more than 80 percent of water penetration problems occur at seams and roof protrusions.
Niemann says that the manufacturing, application and disposal of toluene based mastics produce toxic byproducts, which contain numerous carcinogens and create a dangerous work environment. According to Niemann, G.E.T. Biobased Mastic will cost and perform similar to or better than petrochemical-based competitors. "G.E.T. Biobased Mastic is produced 100 percent here in America," says Niemann. "We use only American produced ingredients, and the manufacturing process also generates additional American jobs. With building trends focusing more and more on reduced VOCs as well as biobased content the product is an excellent choice for accruing Leadership in Energy and Environmental Design points through the United States Green Building Council."
The United Soybean Board (USB) provides funding to industry and researchers to help develop and commercialize new uses for U.S. soy. USB previously partnered with Niemann & Associates on soy-based roofing adhesives, industrial coatings and soy-based resins for printing inks.
To learn more about new industrial uses for soy, visit https://soynewuses.org. To learn more about G.E.T. Biobased Mastic, contact the Green Eagle Technologies sales office at 630-655-3635.
Sound Idea: Soy-Based Liquid Floor Underlay
May, 2015
W.F. Taylor recently took a big step toward reducing sound transmission and replacing harmful chemicals in flooring with the introduction of soy-based Acous-Tec™ Sound Reducing Liquid Underlayment Patch and Leveler.
Sound control is a critical issue for end users, especially in rooms below wood floors in multi-storied residential homes, condos, apartments and high-rise buildings.
According to the company, Acous-Tec resists sound transmission better than composite underlayments , such as rolled felt, foam and rubber. It also enhances the thermal insulating properties of the floor, controls moisture levels, patches up to 1/8-inch cracks and levels substrate surfaces.
Unaffected by concrete slab alkalinity, Acous-Tec can be installed on porous or non-porous surfaces and has extremely low permeability ratings. As the product cures, the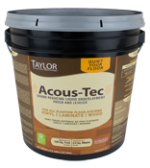 formulated cross-linking modified silane polymer-base builds a tenacious but elastic resilient membrane that will not break down over time like other composite underlayment materials.
Acous-Tec is free of solvents, hazardous chemicals (per OSHA Regulation CFR 1910.1200), water and isocyanates. It is a one-component, 100-percent-solid, non-flammable and low-odor liquid that sets up in one hour.
The low volatile organic content of the liquid underlayment meets federal, state and local government indoor air quality regulations, and qualifies the product for Underwriters Laboratories (UL) GREENGUARD certification.
Acous-Tec r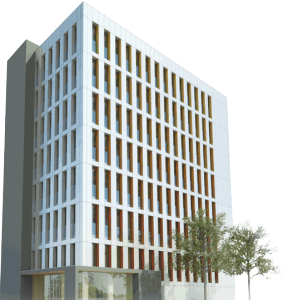 eplaces rolled sound reducing membranes in all floating floor systems, including vinyl tile, plank, laminate and wood. The liquid system simplifies installation for contractors and DIY'ers since there is no need to measure, cut or tape material.
To learn more, visit www.wftaylor.com, or watch a video.
Soy-Toner Making a Splash in Color Printing
November, 2007
The Ohio SoybeanCouncil (OSC) and the soybean checkoff funded a research project at Battelle Memorial Institute to develop a soy-based toner for use in printers and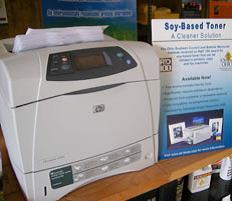 copy and fax machines. "We identified an approach to use soy resins and polymers formulated into use for toners for office printers, faxes and copy machines," says Bhima Vijayendran, Battelle researcher.
The research trial converted soybean oil and protein to a polymer, which was then processed into flakes or powder and mixed with pigments to create the necessary color. The flakes were then melted, ground up and mixed with petroleum-based toner particles. OSC and Battelle not only developed an exciting new soy-based product but also were recognized for the quality of their research. This research won an R&D 100 Innovation Award, which is given by R&D Magazine and recognizes the most significant and technological achievements of each year. The work has moved on from the initial research, and product testing has yielded good results. "The performance and cost are comparable to petroleum-based toners," says Vijayendran. "Soy-based toner has a lower fusing temperature and is easier to get off the paper, making it better for recycling." The soy-based toners react easier with de-inking chemicals, such as alkali and water, to remove the ink. Soy-based toners also produce cleaner, brighter pulp and eventually less expensive recycled paper. Soy-based toners are being commercialized by Advanced Imaging Resources. They have worked with the Environmental Protection Agency, Department of Energy and Pacific Northwest National Laboratory to develop a product that is consistent with federal directives.
Soy-Based Paint Hits the Road in Missouri
March, 2008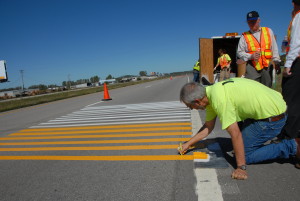 The Missouri Department of Transportation (MoDOT) is testing four types of yellow and white soy-based paint on heavytraffic asphalt and concrete highways in Missouri. The United Soybean Board and soybean checkoff support new industrial uses for soy, and soy-based paint and inks have long been a popular product.
MoDOT has been working with the Missouri Soybean Merchandising Council; Cargill, which developed the soy-based paint; and Cook Composites and Polymers out of Kansas City, which brought the product to MoDOT for testing.
The soy-based paint went through in-lab testing to confirm the compositional qualities of the paint, and it passed all of MoDOT's lab tests. Currently, the department uses water-based traffic paint. The new paint uses a soy resin as its delivery method.
"We need durability in paint for the highway," says Todd Bennett, MoDOT's chemical laboratory director. "Snowplows are the largest destruction method to wear down the paint, so we always test over the winter. The soy-based paint was applied in October and will be evaluated this summer and again after one year."
The paint has been applied in test stripes on Highway 63, between Columbia and Jefferson City, on both the northbound and southbound lanes. The 12-foot test stripes run across the roadway from shoulder to center stripe. MoDOT typically buys about 1.5 million gallons of water-based paint a year, so there may be an opportunity for more soy-based paint to make it to Missouri's highways and byways.
"It all depends on the durability after one year," says Bennett. "MoDOT is always interested in finding good new products. The soy-based paint definitely got a good test this winter."
Paintball Company Makes its Mark with Soy
2012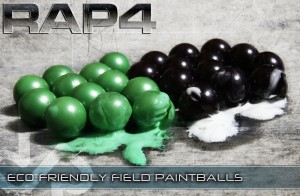 The sport of paintball began in the early 1980s and has grown to a billion-dollar industry. Today, 30 million people in the United States play the game at least once a year, and they spend an estimated $600 million on paintballs, according to the Sporting Goods Manufacturers Association. Thanks to a new soy-based paintball, these colorful marksmen can now use a more environmentally friendly type of ammunition.
Eco Friendly Field Paintballs, from Real Action Paintball Inc. (RAP4), contain fill that partially replaces polyethylene glycol with U.S. soybean oil. The new paintballs are easy on the environment and safe to use around wildlife and water sources, and they have similar uniformity, marking characteristics and ballistics to traditional paintballs.
"RAP4 decided to use soybean alternatives because we wanted to reduce the sport's environmental impact by creating a paintball that is more environmentally friendly," says RAP4's Jason Barrett. "Since releasing our Eco Friendly Field Paintballs in 2010, we've seen an increase in demand from paintball fields all over the globe."
RAP4 is just one example of the many companies fine-tuning their products to include more renewable resources in order to meet consumer demand.
"Real Action Paintball Inc. is proud to lead the industry in 'going green' by introducing the RAP4 Field Paint with natural, biodegradable soybean oil," Barrett adds. "We are proud to offer paintball enthusiasts with an environmentally friendly and affordable paintball option."
In addition to being environmentally friendly, Eco Friendly Field Paintballs and other soy-based products offer benefits to U.S. soybean farmers and the U.S. economy. The United Soybean Board provides funding for research and development of new industrial and consumer products that can increase demand for U.S. soy.
To learn more about RAP4's Eco Friendly Field Paintballs, visit www.RAP4.com.
BECKOSOL AQ® Gets Green Light for Traffic Paint
May, 2013
The green construction movement has driven demand for water-based coatings that can maintain strict environmental regulations, without sacrificing performance.
Responding to this need, Reichhold researchers developed BECKOSOL AQ, a new platform of low-VOC (volatile organic compounds) water-based alkyd latex resins, partially derived from bio-renewable oils, including soy.
The innovative alkyd latex chemistry behind BECKOSOL AQ delivers all of the benefits of an alkyd — including ease of application, high gloss and excellent flow and leveling. The low molecular weight (M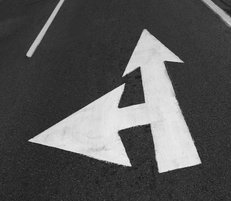 W) and low glass transition temperature (Tg) resins eliminate the need for coalescing solvents. Formulations based on alkyd latexes can rival performance of acrylic latex alternatives in applications ranging from stains to metal primers.
"We are always searching for new markets that can benefit from BECKOSOL AQ technology," says Jamie Dziczkowski, Chemist Associate at Reichhold, a global supplier of resin to the composite and coatings industries. "The large volume, water-based traffic markings area is a prime example where alkyd latex provides a low-cost, biobased alternative to an acrylic latex."
Supported initially with funding from the United Soybean Board (USB), Reichhold chemists developed the shear-stable alkyd latex for use in traffic markings. When formulated as recommended, BECKOSOL AQ400 can be used in coning applications, parking lots, and other non-fast dry applications, and carries the USDA BioPreferred® voluntary label.
Reichhold chemists are currently in the process of developing a fast-dry resin system for traffic marking paint that will drive demand for waterborne alkyd latex resins even further. For more information, visit www.reichhold.com/coatings.
Biobased Roofs – Both Green and White
2015
The historic Varick Street Federal building in New York City's Lower Manhattan.
The historic Varick Street Federal building in New York City's Lower Manhattan has a new, sparkling white soy-based roof coating. The coating extends the roof's service life by more than 50 percent and exceeds New York City's CoolRoofs guidelines, according to Roofing Resources Inc. (RRI) of Chadds Ford, Pa. RRI applied the coating. Both RRI and the coating product are listed on the Government Services Administration's (GSA) schedule. GSA is the primary occupant of Varick Street Building.