Category Archives: Lubricants
Chemical Price Trends – 2010 Market Opportunity Study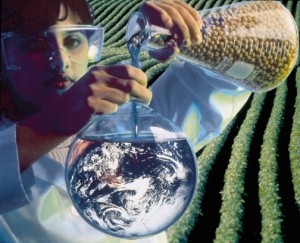 This report details and updates for the end of 2009 specific price changes for a variety of chemicals used to make a wide range of products that either are already being made from soy derivatives or could be made from soy derivatives if affordable technology were available. It also contrasts those changes with the more stable price of soybean oil and soy protein. The price trend report was first done for the United Soybean Board (USB) in 2005, and was updated in 2008. This report for 2010 includes for the first time the implications for soy in the fiber and surfactant market areas. A chart in the report tracks the price change for 15 years for soy oil and meal versus crude petroleum and natural gas as feedstocks for industrial chemical products.
Soy Lubricant – 2013 Market Opportunity Study
Prepared for the United Soybean Board November 2008
Amended September 2013 By: Bart J. Bremmer & Dr. Larry Plonsker
2013 Amendments: Jim Martin
Bio-Power Gives Diesel Fuel a Boost
November, 2007
Most fleets of vehicles with diesel engines use some kind of fuel con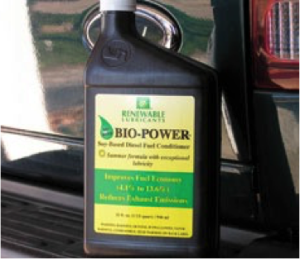 ditioner to improve performance. Bio-Power from Renewable Lubricants is a soybased conditioner is designed to help diesel performance and reduce emissions. The United Soybean Board (USB) and the soybean checkoff support and promote new uses for soybeans, including biodiesel and diesel additives made from soy.
Diesel additives have many uses, whether it is to improve performance or reduce emissions. Bio-Power is made from 70 percent to 80 percent biobased materials, improves stability and lubricity, prevents corrosion and keeps injector systems clean chemically. With new regulations on diesel fuel, the additive will become even more beneficial to diesel users.
"As fuel companies have to remove sulfur from diesel fuel, they will have to replace the sulfur with something to improve lubricity," says Jacqueline Garmier, president of Renewable Lubricants.
Aside from lubricity, the product has been tested for other performance and emissions standards. Based on multiple fleet trials and the Cummins L10 Injector Deposit Test, Bio-Power's technology shows significant improvements over untreated fuels in fuel economy, exhaust emissions and engine noise.
"One of our fleets using Bio-Power averaged a 10 percent to 11 percent improvement in fuel economy, which saved this on fleet over $50,000 per year when the price of diesel fuel was $1.91," says Garmier. "The product reduces black smoke and NOx. One of Bio-Power's biggest benefits is that it helps engines run cleaner."
The product was field-tested in direct and indirect injection vehicles to show the following results: Improves fuel economy by 4.1 percent to 13.6 percent. Improves horsepower up to 5.6 percent. Reduces black smoke exhaust emissions by up to 42 percent. Protects against low-temperature gelling and icing.
When used at the recommended treat rate in untreated fuel, Bio-Power helps diesel fuels meet and exceed the National Conference on Weights and Measurements (NCWM), Engine Manufacturer's Association (EMA) and Truck Maintenance Council (TMC) requirements for: Cummins L10 Injector Depositing Test Detergency Fuel Stability using the 180-minute, 302 degree F oxidation test Improved Lubricity Corrosion Protection Water Tolerance To learn more about Bio-Power, visit www.renewablelube.com.
To learn more about new uses for soybeans, visit www.soynewuses.org.
Soy Dielectric Insulating Fluid Earns Presidential Green Chemistry Award
February, 2014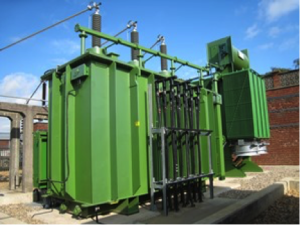 High-voltage electric transformers require an insulating fluid to prevent short circuiting and provide cooling. Polychlorinated biphenyls (PCBs) were used as transformer fluids until they were banned in the 1970s, when mineral oil became the primary replacement. However, mineral oil is flammable and may be toxic to fish.
With support from the United Soybean Board, Cargill, Inc. developed EnvirotempTM FR3TM dielectric fluid that is based on soybean oil instead of petroleum. The soy-based oil can be used to replace mineral oil when retrofilling transformers, which earned Cargill a 2013 Presidential Green Chemistry Award.
The FR3TM fluid is significantly less flammable than mineral oil, greatly reducing the risk of fire or explosion. The soy-based oil also increases the service life of the cellulose insulation five to eight times longer than mineral oil, which extends insulation life and transformer life.
According to a life cycle assessment using the Building for Environmental and Economic Sustainability (BEES®) 4.0 software, a transformer using FR3TM fluid has a lower carbon footprint across the entire life cycle of the transformer. The largest reductions occur in the raw-materials, manufacturing and transportation phases.
The total carbon footprint of an electric transformer is about 55-times lower when using FR3TM fluid compared with mineral oil. This is all in addition to the low toxicity, high biodegradability and the fact that FR3TM fluids are based on a renewable resource.
To date, there have been no known explosions or fires in the hundreds of thousands of transformers filled with FR3TM fluid since the product launched.
FR3TM fluid has achieved numerous industry validations, including EPA's Environmental Technology Verification, the lowest environmental-impact-performance score in a BEES life cycle assessment, USDA Biobased Product certification and certification as a less-flammable fluid by both Underwriters Laboratory and Factory Mutual Research Corporation.
During the 18 years of the Presidential Green Chemistry Challenge program, the Environmental Protection Agency has received about 1,500 nominations and presented awards for 93 technologies. Winning technologies over the lifetime of the program are responsible for reducing the use or generation of more than 826 million pounds of hazardous chemicals, saving 21 billion gallons of water and eliminating the release of the equivalent of 7.8 billion pounds of carbon dioxide to the air.
EnvirotempTM FR3TM dielectric fluid by Cargill replaces mineral oil with soybean oil to increase the service life of the cellulose insulation in transformers five to eight times longer.
Soy Oil Helps Machining Industries Cool Tool
May, 2007
In the past, cooling and lubricating machinery in the metalworking industry required a flooding technology that was often wasteful, costly and even a detriment to the performance of advanced machining processes materials and equipment. However, new products featuring soybean oil could sold those problems and establish new technology. The United Soybean Board (USB) and soybean checkoff helped support the development of Cool Tool technology, which is bring soybean oil into the machining industry.
The Cool Tool system from Cool Clean Technologies uses a new technology called Advanced Minimum Quantity Cooling Lubrication, which incorporates soybean oil and carbon dioxide (CO2) cooling in to a single process when it comes to metal cutting.
*Soybean oil is very soluble in CO2, so the Cool Tool system was a natural progression," says David Jackson, chief technical officer of Cool Clean. "Many biobased semisynthetic coolants separate the coolant from the lubrication, but with our system the cooling and lubrication are integrated."
The use of soybean oil and CO2 results in a much better surface finish that is cleaner and brighter. There is also a noise reduction caused by decreases friction. The reduced friction leads to the machines lasting longer, with more than a 100 percent improvement in the life of the machines when applied properly.
"Cool Tool technology allows for a much cleaner operation," says Jackson. "You can clean chips up with a vacuum cleaner and the air quality is much better with less smoke from the machines."
The new technology works with all types of steel, titanium and some carbides. It also shows flexibility when working with previous systems, as operators do not necessarily need to switch out systems. The Cool Tool technology works with existing flooding chemistry.
This project is a good example of the soybean industry partnering with industrial companies to increase the use of soy bioproducts like Cool Tool technologies.
"We'd like to thank the soybean checkoff for funding some of the development work for the Cool Tool system," says Jackson. "We really appreciate the support."
To learn more about Cool Tool, go to http://www.co2olclean.com/, to find more information on soy products, go to http://www.unitedsoybean.org/newuses.
Soy Biobased Penetrating Lubricants & Spill Sorbents Succeed in DLA Demonstrations
2015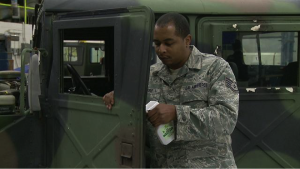 Sergeant Daniel F. Moore, 628th Logistics Readiness Squadron (LRS), Joint Base Charleston (JBC), applying BioBlast penetration lubricant to High Mobility Multipurpose Wheeled Vehicle (HMMWV) door latch.
After successful performance evaluations, the U.S. Department of Defense (DoD) Defense Logistics Agency (DLA) has officially introduced soy biobased penetrating lubricants and a spill sorbent into the federal buying system.
Now DLA customers can easily identify and buy these soy biobased products as an alternative to petroleum-based counterparts with the knowledge that they meet DoD product specifications and performance requirements.
On behalf of DLA Aviation, the National Defense Center for Energy and Environment (NDCEE) operated by Concurrent Technologies Corporation (CTC), evaluated the products as part of the Green Product Evaluation and Demonstration Program. The evaluation included two soy-based penetrating lubricants and a soy-containing spill absorbent:
"The products were tested in 2010 and 2011 at eight Tri-Service DoD installations and achieved equal to, or better performance, ratings than the existing petroleum-based products," reports CTC's Director of Green Programs George C. Handy II, who oversaw the NDCEE's field demonstrations.
Soy Benefits U.S. Military Operations Abroad
February, 2011
Every year new soy-based products come to fruition in addition to finding new applications for existing products. U.S.-grown soybeans have found their way overseas helping support U.S. military operations abroad. Soybean oil plays a major part in electrical transformers at U.S. military bases overseas, including Okinawa and Kadena Air Force Bases in Japan, as well as the U.S. embassy in Nigeria. These electrical transformers help keep the lights on, among other things, at these bases.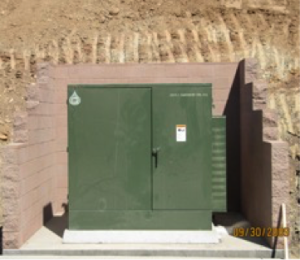 "A dielectric fluid is used in transformers and has two primary functions," says David Bingenheimer, Global Product Manager with Cooper Power Systems. "It acts as an electrical insulating medium, and it transports heat generated in the equipment from the 'hottest areas' of a transformer, such as the transformer windings and core, to cooling surfaces such as the tank wall."
Cooper Power System's dielectric fluid, called Envirotem™ FR3™ fluid, not only helps keep transformers cool, it also helps protect the environment. "The base oil of FR3 fluid is soybean oil. Approximately 95 percent of the fluid volume of FR3 fluid is soybean oil," says Bingenheimer. "The FR3 fluid is biodegradable, non-toxic and non-hazardous, and has a carbon-neutral footprint."
The military, like other electrical power consumers, evaluates products based on needs, solutions to known problems and the best total ownership costs. According to Bingenheimer, Cooper Power System's dielectric fluid is typically selected for its flawless fire safety record. Using it minimizes the risk associated with a transformer failure, potential fire, damage to surrounding area, and resultant power outage.
"I think any time the government endorses a product like this, it sets a good example," says Bob Haselwood, Kansas farmer and chair of the United Soybean Board's new uses committee. "It's soy products like these that the United Soybean Board supports. Each new product means new demand for the U.S. soybean farmer's product."
It's not just the military that uses this soy-based product. FR3 fluid has achieved global use and currently can be found in over 350,000 distribution and power transformers on five continents. For more information on Cooper Power Systems, go to www.cooperpower.com.
Soy-Based Transformer Coolant Biodegrades Quickly
March, 2011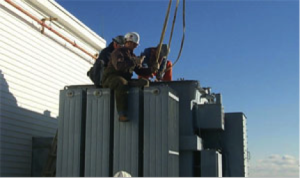 The huge rusting radiators of the 16 transformers at the Lamberts Point Deperming Station were replaced with new stainless steel ones. A total of 6,000 gallons of mineral oil was removed and replaced with biobased Envirotemp® FR3® transformer coolant fluid.
Dozens of U.S. military facilities have switched to or installed new equipment that comes with a biobased transformer coolant fluid-Envirotemp® FR3®. The world's largest naval station — Naval Station Norfolk — is one such facility that has switched to the product made from soybean oil because it is better for the environment. Because the Station is located on a peninsula and its transformers are located on a waterway, personnel were concerned about the environmental impact if a transformer should leak. As a result, they sought a solution that would not harm marine life. Because FR3 fluid is soy-based and does not contain petroleum hydrocarbons, silicones or halogens, it typically biodegrades quickly in case of leak or spill. Tests show that FR3 fluid is 99 percent degraded in 21 days when tested per an Environmental Protection Agency method. In comparison, mineral oil is only 25 percent degraded in 21 days. In addition, the biobased fluid is considered non-toxic when evaluated by multiple standard test methods.
Nutek Continues Soy Success Stories
August, 2011
Nutek, an Ohio-based company, built its business by developing a number of soy-based products and continues to do so after being purchased by Hoover.
The United Soybean Board (USB) also funds research and supports the development of soy products and technology like soy coatings, foams, plastics and other products that can help replace petrochemicals.
Many soy-based products, ingredients and intermediates exist for a variety of industries that can be found in USB's Soy Products Guide online.
Nutek's soy success story began with Bolt-Off, a soy-based performance lubricant developed by Nutek CEO Cathy Horton. Horton said that soybean oil naturally provides four to seven times more lubricity than petrochemicals. Today, Nutek includes the following soy-based products:
• Simply Soy®- lubricant designed for in-home applications that is 100 percent biodegradable.
• Bolt Off®- lubricant that reduces the friction from nuts, bolts and other hard-to-remove parts. • LubFix®- multipurpose lubricant for creaky hinges, sticky sliding glass doors and sticker removal.
• Simply Soy Grill Wipes- wipes that dissolve greasy messes on barbecue grills and prevent food from sticking to the grill.
• Simply Soy Lubricating Cleaning Cloth Wipes- patented non-toxic lubricating solution that cleans rust from tools and can be used in sensitive areas, such as food preparation areas, schools and hospitals.
Currently, Nutek's products can be found online by searching product name.
Penn State Elevators Go Up—Environmental Risks Go Down
2015
The Pennsylvania State University built a winning team for sustainability. They combined the strengths of their staff for facilities, environmental management and research with U.S. soybean farmers and the U.S. Department of Agriculture.
Together, they birthed a biobased product that is a sustainability solution for buildings across the country.
For every floor a hydraulic elevator services, it typically has a shaft running an equal distance down into the ground. These hydraulic fluid-"powered" elevators have a range of 2-6 stories so their cylinders may penetrate six stories underground.
Not often, but occasionally, these cylinders spring a leak. Hydraulic fluid can then contaminate soil and ground water. The deeper the contamination, the more difficult and expensive it is to clean up the spill.
"Soy-based hydraulic fluid dramatically reduces our exposure to remediation costs if we should ever have a leak or spill in one of our more than 100 hydraulic elevators here at Penn State," explains Mark Gates, elevator supervisor.
"Fortunately, we have not had any major spills since we began switching to this fluid.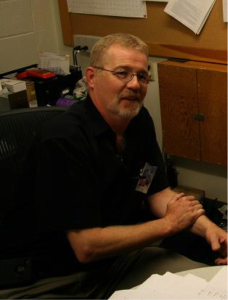 Mark Gates, Penn State elevator supervisor
"In total, we are using more than 17,000 gallons of the soy-based hydraulic fluid at Penn State's University Park here in State College," Gates says. "There are 21 other campuses of Penn State that I don't supervise. They also have hydraulic elevators using the soy-biobased fluid so our total volume is even larger than that."
Penn State Environmental Compliance Engineer Lysa Holland says, "It's biodegradable so while we know we must clean up any spill, the procedures approved by the Pennsylvania Department of Environmental Protection (DEP), the agency which overseas spill clean ups, do not require expensive ground water remediation."
Holland tells the history: "It all began in 1998 when the manager of our College of Agriculture farms came to me and asked for help. 'Surely there is something we can do. Every time I break a hydraulic hose on one of my tractors, it's bad for the environment and expensive for Penn State,'" he said.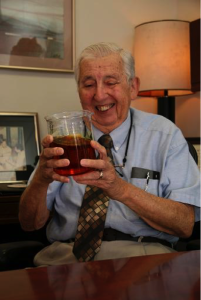 Penn State Chemical Engineering professor Dr. Joseph Perez
"I went to work on the problem, and I discovered we had one of the leading experts on biobased fuels and oils right here: Chemical Engineering professor Dr. Joseph Perez. We solved that farm manager's problem with a soy-based hydraulic fluid."
With that success, Holland and Ed Jazwack, who is now retired, but was then working with Penn State's hydraulic elevators, began discussing the possibility of a similar soy-biobased fluid for the elevators.
As it happened, Dr. Perez and some of his graduate and post-doctorate-degree students had been working on hydraulic fluid and elevator fluid concepts since 1995.  In 2002, the U.S. Department of Agriculture's (USDA) Agricultural
Research Service in Peoria, Ill., had successfully tested the product in the Statue of Liberty elevator. Bunge North America purchased the licensing agreement in 2005, making it commercially available under the brand name AgriTech® soy-based hydraulic fluid.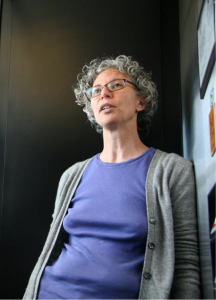 Lysa Holland, Penn State Environmental Compliance Engineer
Holland's next step was to discuss the soy-based hydraulic fluid with the state's DEP. After testing the fluid, they agreed that it was less toxic, biodegradable and would need less remediation in the case of a future spill.
All Penn State hydraulic elevators, known in the industry as direct displacement elevators, were switched to AgriTech® by 2009. Gates says all elevators installed since 2009 also use the fluid.
'Perfect Case History' for Sustainability Partnerships
"This is a perfect case history of how all concerned parties—those responsible for operations, those responsible for compliance, and those who have the scientific knowledge and skill—at a university like Penn State can work together, to advance sustainability goals," says Steven Maruszewski, the assistant vice president physical plant, and the lead official for championing sustainability programs throughout the university.
He says Penn State has presented the case history at sustainability meetings for all Big 10 universities and at other programs, like Elevator U. Starting in 1998, colleges and universities, especially those from the Big 10 Conference, organized what they called VTCCU (Vertical Transportation Conference for Colleges and Universities.) In 2006, they changed the name to Elevator U.
Dr. Perez points out that Pennsylvania Soybean Board and soybean farmers across the nation also played a role in the early development of soy-based hydraulic fluids in general. State checkoff programs and United Soybean Board (USB) have helped fund research. "The Pennsylvania Board provided some funds for the first study on soy-based hydraulic fluid for the Penn State tractors, and USB has provide funds for study in handling the used fluid," he explains.
Win, Win
"This is really a win, win situation," says Holland. "It's a case where everyone—our scientists, our maintenance staff, our administration–all came together with the soybean farmers and industry to solve a problem. I can and do recommend this system and soy-biobased hydraulic fluid to other universities and institutions…really to anyone who responsible for maintaining a hydraulic elevator."
For More Information about…
Penn State's experience with soy-biobased hydraulic fluid for elevators, contact Mark Gates at Office 814-865-8762 or Cell 814-502-7926 or email: msg11@psu.edu or Lysa Holland at Office 814-865-8762 or email: ljh17@psu.edu
For product information and sales of AgriTech™ soy-based hydraulic fluids, contact Mike Woodfall, Bunge North America at Office 281-419-8924 or Cell 713-471-6559 or email: woodfall@bunge.com or go to www.bungenorthamerica.com
The product can also be purchased through Bunge's sole distributor, Maxton Manufacturing Company at Office 775-782-1700 or email: info@maxtonvalve.com