Category Archives: Plastics
Shoes with Soy
Shoes with Soy
Imagine the pile of shoes just inside the garage, home of scuffed workboots and nearly outgrown sneakers. Those muck boots have squelched through their fair share of swampy fields, and they're not the only workhorses in this pile.
One pair in particular has earned its spot many times over; worn by every member of the family at some point, this pair of flip-flops is strictly for emergencies. Like going down to grab the mail. Or reminding your youngest (again) that running barefoot isn't the best idea. Those are shoes you need to work every time. Thanks to a company called Okabashi, those shoes are now made with soy.
We talked to company president Kim Falkenhayn about what makes Okabashi and soy go together like rain boots and puddles.
What's special about Okabashi shoes?
We're one of the remaining 2 percent of shoe manufacturers still operating domestically. We make shoes in Buford, Georgia, where people have been making shoes for generations – first out of leather scraps from larger goods like horse collars, and now using recyclable and renewable materials, including soybean oil.
Okabashi shoes are well known for our Comfort Footbed. Lots of arch support and contours allow people who thought they couldn't wear flip-flops to love them. Runners who need more support, people recovering from surgery and those with issues such as plantar fasciitis are able to wear our shoes comfortably.
Sustainability is a big part of your brand. How did you become interested in being sustainable?
In the late 80s and early 90s, we were watching factory after factory leave the U.S., and we didn't want to be next. We had to become even leaner, and our production had to be even more efficient to compete with inexpensive labor overseas. So we adopted new materials and processes that allowed us to recycle all of the scrap produced in the manufacturing process, eventually starting a shoe recycling program for our customers as well.
Part of our efficiency efforts is watching for new materials that would not just make our products better, but more sustainable. Plasticizers, a pellet we use to create parts of our shoes, became commercially viable as a bio-based product using soybean oil. We jumped on that opportunity.
It sounds like sustainability is a staple for Okabashi — it's important to care for the environment, but there are business considerations as well. How does sustainability fit into your business model?
It has to be more than just a marketing feature for your customer. Sustainability is ingrained in our DNA. It has to work holistically with all of our processes to make it work in the end. It's so much a part of what we do and how we think about design. In fact, there are several product ideas we have shelved for years because we haven't found the right solution yet. If we can't make them sustainably in the U.S., we don't feel like it fits us.
What makes soybean oil a good fit as part of Okabashi?
There are a couple of things that make soybean oil a good fit for our plasticizer. For one, the addition of soybean oil helped the product meet all of our specifications – from softness to strength. That's a basic requirement for any material we use. On top of that, soy is grown on a large scale in the U.S., and it's available anytime we need it at any quantity we require. Those two things together allowed us to make the leap from a petroleum-based product to a bio-based product that fits our brand better.
Where can you buy Okabashi shoes?
You'll find the Okabashi brand in Walgreens and CVS, where we've had a partnership for decades. We're really excited about some new doors that could open up in the near future. We also have our boutique brands: Oka B at resort shops and spas, and Third Oak, flip-flops and sandals designed for outdoor adventures.
So when those Old Navy flip flops wear a hole in them (again), consider replacing them with Okabashi shoes that are supportive for feet and for U.S. soybean farmers.
Soy Helps Foam Products Corporation Go Green
Foam Products Corporation (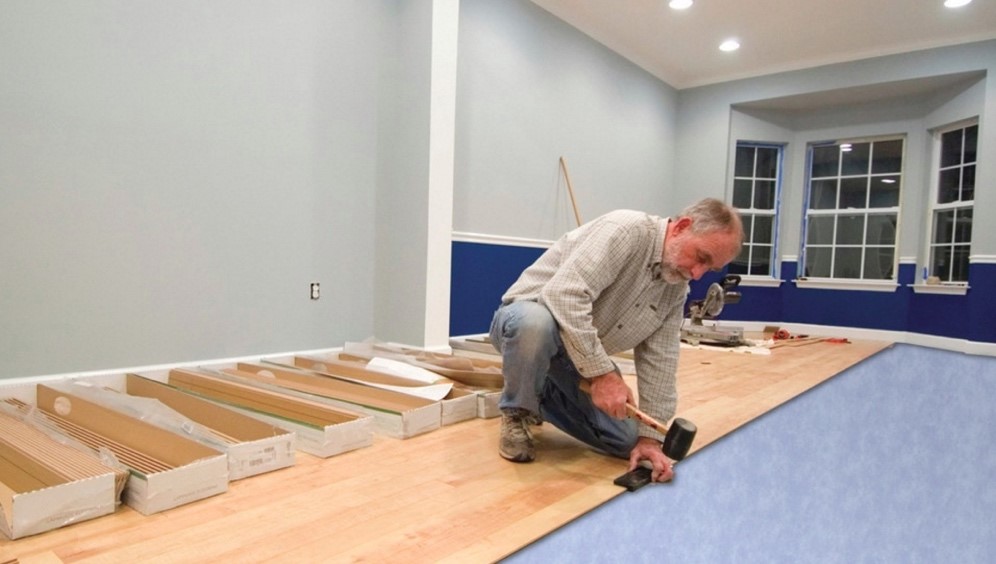 FPC), one of the world's largest producers of acoustical underlayments for the flooring industry, has been developing environmentally friendly, sustainable, "green" products for years.
In the commercial building market, the use of sustainable products helps contractors earn Leadership in Energy and Environmental Design (LEED) certification points for best-in-class building practices.
"Being green is very important to our customers," says Perry Muse, vice president of manufacturing and general manager of FPC. "It's made a difference in cases where if we're competing against a product that does not have a green story, we almost always win out," he says.
Working with renewable energy and recycled materials, and substituting biobased ingredients such as soy, helps make FPC more sustainable. Sustainability is one of the reasons the company has been using soy ingredients in their products since 2011.
"We wanted to be part of the green movement," says Muse. "And one way we did that was by replacing some of our petroleum-based polyols with soy-based polyols."
Soy is a good alternative to petroleum-based chemicals for Muse's team, and he sees benefits beyond just enironmental. They also have experienced cost reductions and are pleased with its performance during production.
When FPC first adopted soy polyols five years ago, the company worked with its supplier to make the transition as smooth as possible. Lab work and technical support from its supplier made the transition relatively simple.
Now FPC is so pleased with the performance of soy-based polyols that the company is working to incorporate soy into other products as well.
"Because of the experience we've had so far, we're actively trying to grow the use of our soy-based products and help us get into different markets," Muse adds. "We're very happy with what we've been able to do with our soy products and what we see the future looking like."
One-on-One with BioBased Technologies®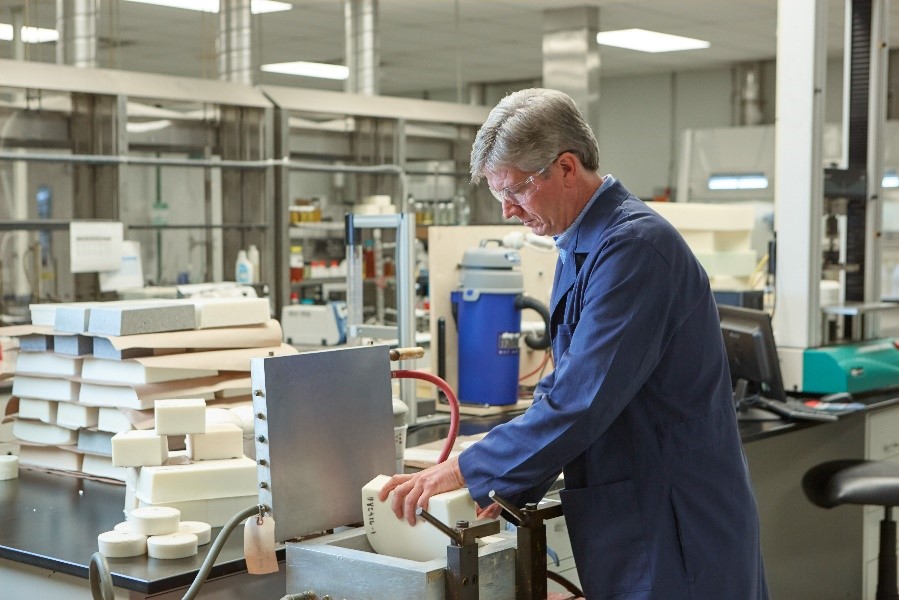 As corporate sustainability efforts grow, companies continue to search for innovative ways to incorporate renewable ingredients into their products.
BioBased Technologies® (BBT), a leader in renewable chemistry, relies on soybeans and technology developed with USB research support, to help manufacturers, foamers, formulators and retailers make the transition to biobased ingredients as seamless as possible.
"We dig in as much as we possibly can to help our customers reformulate their products with sustainability as a key factor," says Rick Speas, chief technical officer at BioBased Technologies. "We really take pride in our one-on-one interaction with our customers. The companies we work with have direct access to our teams, labs and many other resources."
Speas elaborates on how BBT helps their customers transition to soy-based polyols as they make a corporate commitment to the environment.
"Customers can come to us for a basic raw polyol all the way to a complete formulated system," Speas says. "Soy polyols are different from petrochemical-based polyols. They require some different formulating, but once they're handled properly, they fit very nicely."
BioBased Technologies introduced its Agrol® soy-based polyols line to the market in 2005. With biobased content ranging from 80.8% to 99%, several individual Agrol polyols are designated USDA Certified Biobased Products.
A Life Cycle Analysis, conducted by qualified third-party Omni Tech International, determined for every pound of Agrol soy polyols replacing petroleum, approximately 5.5 pounds of carbon dioxide equivalents are removed or prevented from entering the atmosphere. Because of the product's ability to help reduce greenhouse gases and advance other environmental goals, the U.S. Environmental Protection Agency named Agrol a P2 Awardee in 2006.
When a company decides to incorporate soy-based polyols, systems or blends into their products, the benefits go beyond the environment.
"Depending on the application, there are a number of different benefits to these products," Speas adds. "Our customers have reported improved shock attenuation, vibration dampening, better flow characteristics, improved resistance to compression sets and less sensitivity to temperature variation."
Sustainable SYNLawn® Gains Ground in Turf Industry
Demand for synthetic grass continues to grow along with interest in creating lush, sustainable urban landscapes. Research support from the United Soybean Board enabled Universal Textile Technologies (UTT) to hit the ground running, and gain yardage, with BioCel™ and EnviroCel™ synthetic grass backing made of soy-based polyols.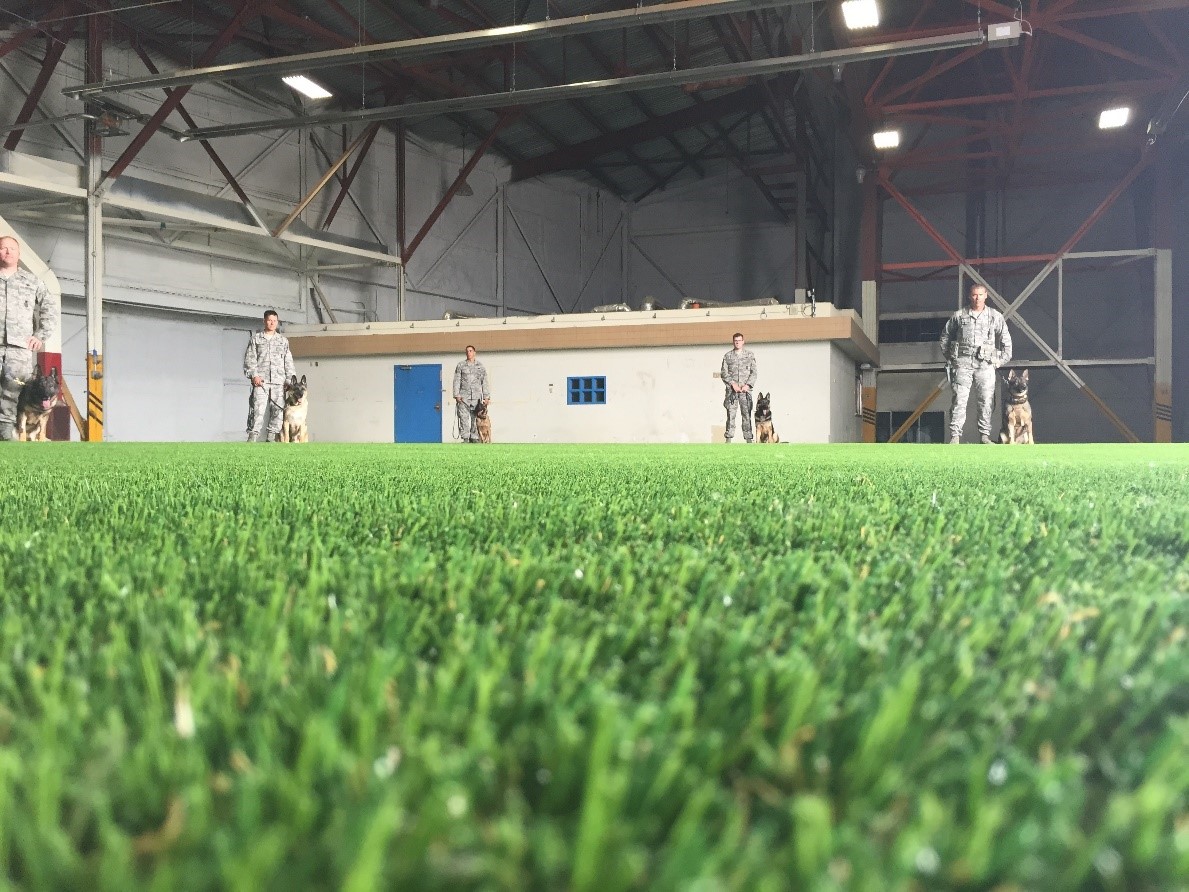 UTT began using soy-based technology on SYNLawn synthetic grass in 2007 with the goal of providing sustainability before customers demanded it, according to Doug Giles, global marketing director at UTT. However, in addition to helping buyers increase biobased product purchases, SYNLawn is helping federal agencies meet new water reduction requirements established in Executive Order: Planning for Federal Sustainability in the Next Decade (EO 13693). The EO directs federal agencies to reduce by 2 percent annually through fiscal year 2025 the gallons of water used for industrial, landscaping and agricultural consumption relative to fiscal year 2010 baseline.
"Performance-based polyurethanes replaced the traditional latex backing systems earlier," says Giles.  "With the soy-based polyurethanes from BioCel and EnviroCel, we are able to meet federal and state requirements, as well as demand for an environmentally friendly product."
"Soy-backed synthetic grass incorporates all of the performance attributes previously associated with traditional polyurethane," says Giles. "Advantages include price stability, a reduction of carbon emission and improved air quality by planting more soybeans with every yard of product sold."
The company says 0.39 pounds of polyols extracted from American-grown soybeans replace virgin petrochemicals in every yard of their BioCel high-performance backing system.
Landscaping represents a major industry, with water restrictions in many western states. Synthetic turf can be used for putting greens, playgrounds, rooftops, airports, pet kennels and other areas. And, the soy-based synthetic lawn and turf can be found in hotels, casinos and churches across the country.
Eco-Conscious Consumers Warm Up to Heatlok® Soy Foam Insulation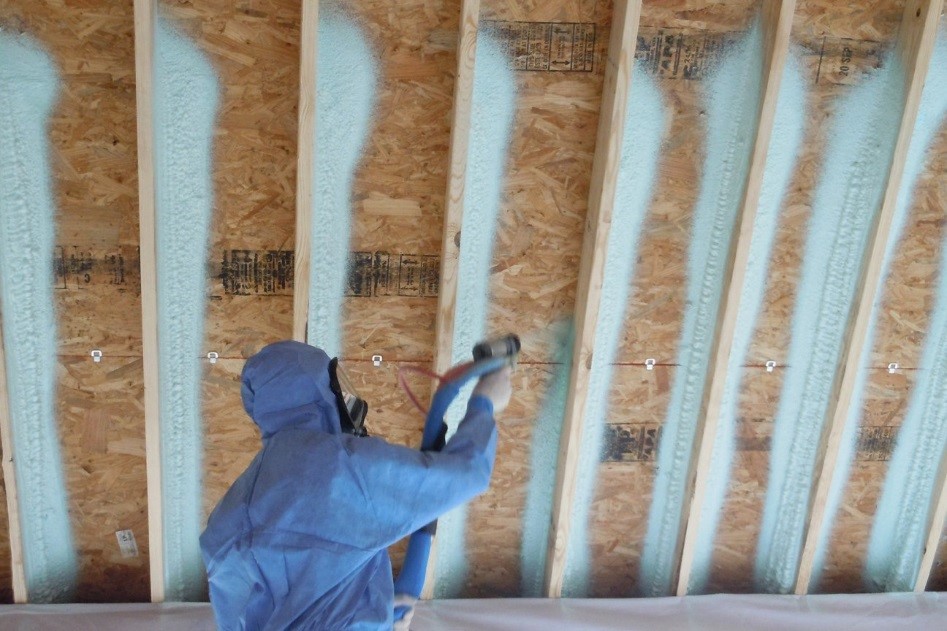 "Our industry has always focused on energy conservation," Grant Ostvig, Demilec director of technical service and commercial development, says. "Heatlok spray foam insulation tightly seals a building envelope to improve the energy efficiency of the structure. When you lower the amount of energy used to heat and cool a building, you lower the amount of fossil fuel needed to produce that energy," he says. "This ultimately reduces the building's carbon footprint."
However environmentally conscious consumers are discovering even more benefits of Heatlok spray foam insulation.
Developed with United Soybean Board research support, the Heatlok product line combines recycled plastic bottles and soy polyols to create closed cell, high-performing, high-yield foams with up to 22 percent renewable and recycled content. These features allow architects who choose Heatlok to qualify for up to 10 Leadership in Energy and Environmental Design (LEED) certification points.
In addition to boosting eco-friendly product attributes, soy polyols in Heatlok formulations improve product performance.
In ASTM-E-84 testing – the standard independent test method for surface burning characteristics of building materials – Heatlok XT scored a zero in fire resistance and flame spread.
"We're constantly developing and testing spray foam products that meet current standards and even anticipate new regulations," Ostvig says.
Soy-based spray foam innovation and savings extend all the way to application processes.
This year, Demilec introduced Heatlok HFO High Lift, the newest version of the company's best-selling Heatlok XT, which is designed with Solstice®Liquid Blowing Agent. Solstice complies with Montreal Protocol and has a Global Warming Potential (GWP) of one, which is 99.9 percent less than traditional blowing agents. Heatlok HFO High Lift significantly increases spray ability by allowing up to 6.5 inches of foam to be applied in one pass to achieve an R value of 7.5 per inch. A winter version of Heatlok XT can even be sprayed at temperatures as low as 10 degrees Fahrenheit, which is the lowest in the spray foam industry.
Soy Thermoset Plastics – 2012 Market Opportunity Study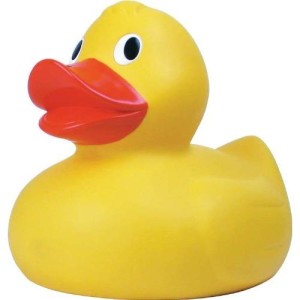 From construction to automotive manufacturing, soy polyols deliver
low cost and high functionality to a variety of markets.
Building materials can be end uses for soy-based polyurethane and polyester thermoset plastics. Examples are  components of foam insulation and molded mill work; parts for cars, trucks, trains, planes, tractors, tractor trailers and  recreational vehicles; furniture, mattresses, carpet pads and carpet binders; insulation
for coolers, water heaters and vending machines; packaging and pallets; materials for ships, boats and flotation devices; industrial insulation and sealing; and shoe and boot soles. MOS_ThermosetPlastics2012
Chemical Price Trends – 2010 Market Opportunity Study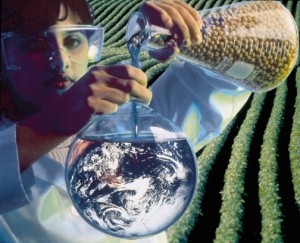 This report details and updates for the end of 2009 specific price changes for a variety of chemicals used to make a wide range of products that either are already being made from soy derivatives or could be made from soy derivatives if affordable technology were available. It also contrasts those changes with the more stable price of soybean oil and soy protein. The price trend report was first done for the United Soybean Board (USB) in 2005, and was updated in 2008. This report for 2010 includes for the first time the implications for soy in the fiber and surfactant market areas. A chart in the report tracks the price change for 15 years for soy oil and meal versus crude petroleum and natural gas as feedstocks for industrial chemical products.
Disposable Plastics – Market Opportunity Study 2008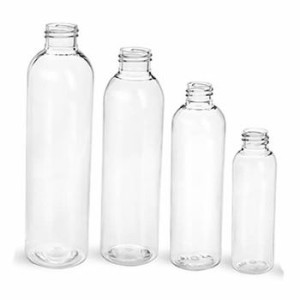 DISPOSABLE BIOPLASTICS,  CONSUMER DISPOSABLES, AGRICULTURAL FILMS
A Market Opportunity Study
April 2008
By: Phil Sarnacke & Stephen Wildes
Soy-Based Sealant Shows a New Side of Soy
May, 2006
Over the past few years, soy-based foam products have made an impact in the construction industry, and now they are changing the way soy is used in buildings on the farm. Ag-Tite, developed by EDGE Inc., in conjunction with Biobased Systems, is a soy-based sealant first intended for use in agricultural facilities. Black sealants produced by Ag-Tite are designed to fill cracks and openings in agricultural structures, such as barns, poultry houses or hog pens. The United Soybean Board and soybean checkoff continue to support innovative soy-based technology.
"We created the products in the Ag-Tite line to meet specific industry needs," says Bill Collins, general manager of EDGE Inc. "Before Ag-Tite was developed we noticed that clientele in the poultry industry needed a solution to repairing their facilities. Many of the buildings were more than a decade old and had experienced wear and tear from daily operations' and we were able to solve that problem with the creation of our soy-based sealants."
Ag-Tite is a black, nominal 3 lb. /cubic foot density spray applied polyurethane sealant. Certified technicians install this two-part, soy-based product using custom designed application equipment developed by EDGE Inc. The two components (component A and component B) are stored in 55 gallon drums and loaded into specialized trailers. The drums are then heated to 90 degrees Fahrenheit, put under pressure and applied using a hose heated to 135 degrees.
"Ag-Tite is not only good for farmers since it's made with soy, but it also helps to reduce on-farm costs from heating buildings and animal livestock facilities," said Collins. "Our product is cost-effective, has twice the density of any other polyurethane product in the market and is the only product that has been E-84 tested as an agricultural sealant."
The sealant is mixed at a 1:1 ration between component A – Polymeric Diphenylmethane Diisocyanate and component B – XBBS 020-12, a polyol blend with amine catalysts. Ag-Tite should be sprayed in single passes that will give rise to 1-2 inches of quick curing foam. Successive passes can be made after the application has cooled.
Ag-Tite has undergone several product tests and has a National Fire Protection Association (NFPA) rating of 704M. Under NFPA standards (0 being low and 4 being high) Ag-Tite has a health rating of two, flammability rating of one, reactivity level of one and no special rating. Hazardous Materials Information System (HMIS) rated Ag-Tite with a two in health, a one in flammability and a one in physical hazard.
The product should be stored in a dry place within the temperature range of 64 degrees Fahrenheit and 86 degrees Fahrenheit. Ag-Tite has a flashpoint of 390 degrees Fahrenheit; is non-soluble in water; reacts to water, alcohol, bases and acid; and has a shelf life of six months.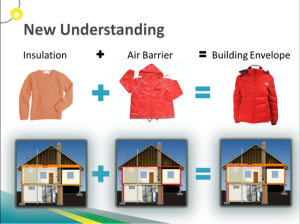 Because this is a medium-density air sealant,  it does not include any ozone-depleting blowing agents. Moreover, it is a smarter replacement for chemically-based medium density, closed-cell spray foam insulation products for architects and designers seeking a more environmentally sound option. In addition to its positive environmental footprint, AireBarrier Green is built with closed-cell chemistry. This ground-breaking new product is set to change how the construction industry uses polyurethane chemistry thanks to the product's superior environmentally responsible formulation and wide residential or agricultural application possibilities.
Soy Turf Backing Plays the Field
July, 2008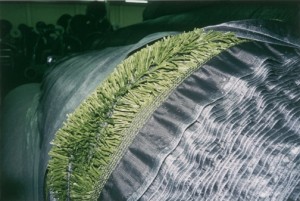 From rolling farm land to the fifty-yard-line, new soy-based technology levels the playing field. Athletic turf made by AstroTurf® features new BioCel® technology, a soy-based unitary polyurethane backing system developed with initial support from the United Soybean Board (USB) and soybean checkoff.
BioCel technology utilizes soybean oil to replace petroleum-based polymers used in similar polyurethane backing components. Replacing petroleum with soybean oil reduces dependency on foreign oil and provides environmental benefits.
"AstroTurf uses soybeans grown by U.S. farmers instead of oil from foreign countries," says BioCel marketing director Andy Belles. Soy plays a crucial role in the performance of the turf. The soy polyurethane backing is unaffected by moisture and can be perforated for enhanced drainage. Made from soybeans and postconsumer recycled content, the turf backing has low volatile organic compounds (VOCs).
"The backing is the foundation of any synthetic turf system," says Belles. "A turf system is only as strong as the backing material that holds it together and BioCel is durable enough for the NFL." In addition to athletic fields for sports like football, soccer and field hockey, the artificial turf is gaining popularity on golf courses and for residential uses. The BioCel backing system is an affordable alternative to petroleum-based backings.
"As soybean farmers, we are proud to work with the industry to develop new uses for soybeans. AstroTurf with BioCel technology is the result of soybean checkoff efforts to expand soybean utilization," says Marty Ross, USB director and a soybean farmer from Delmar, Del. "AstroTurf with BioCel technology is one more reason for America's soybean farmers to be proud of their own fields."
To learn about AstroTurf with BioCel backing, visit http://www.astroturfusa.com