Category Archives: Solvents
Solvents – 2012 Market Opportunity Study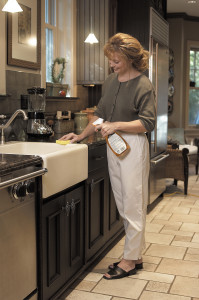 Soy means fewer VOCs, less flammability and less toxicity.
Methyl soyate, a methyl ester derived from soybean oil, is an excellent "green" alternative industrial solvent for use in various I&I (Industrial and Institutional) cleaners, paint strippers, adhesive and graffiti removers, parts cleaners and degreasers and as a carrier solvent for coatings and adhesives. It is a cost competitive, low-VOC, low-toxicity, high-flash, effective and readily biodegradable replacement for conventional chlorinated and hydrocarbon solvents.
Solvents – 2007 Market Opportunity Study
Industrial solvents are used as component ingredients in formulated products or as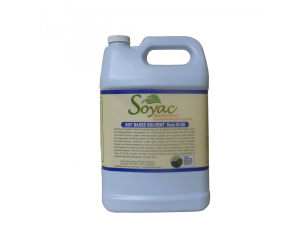 processing aids in manufacturing. Annual U.S. solvents demand is about 12 billion
pounds valued at about $5 billion. Demand will grow modestly but the mix of solvents
will continue to change dramatically under environmental and regulatory pressure
designed to reduce emissions of ODS (Ozone Depleting Substances), VOCs (Volatile
Organic Compounds) and HAPs (Hazardous Air Pollutants). MOS_Solvents2007
Chemical Price Trends – 2010 Market Opportunity Study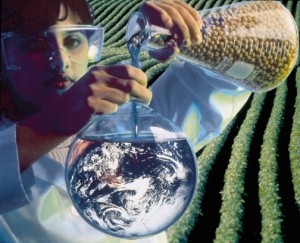 This report details and updates for the end of 2009 specific price changes for a variety of chemicals used to make a wide range of products that either are already being made from soy derivatives or could be made from soy derivatives if affordable technology were available. It also contrasts those changes with the more stable price of soybean oil and soy protein. The price trend report was first done for the United Soybean Board (USB) in 2005, and was updated in 2008. This report for 2010 includes for the first time the implications for soy in the fiber and surfactant market areas. A chart in the report tracks the price change for 15 years for soy oil and meal versus crude petroleum and natural gas as feedstocks for industrial chemical products.
Soy-Based Solvents – 2012 Technical Data Review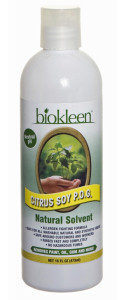 Made from soybean oil, methyl soyate is the environmentally and
regulatory-friendly alternative to petrochemical solvents.
Soy-based Solvents and Strippers Yield aMAIZEing Results
March, 2007
Many industrial tasks, like paint stripping or cleaning concrete, require work with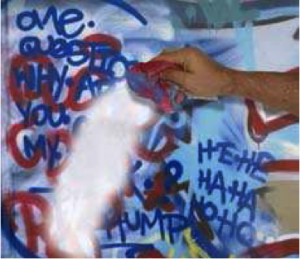 chemicals that can be hazardous. In many cases this is unavoidable, but some soy-based products are making these industrial tasks safer for both the environment and the people who use them.
Green Products recently introduced aMAIZEing Biobased Stripper and Solvent, which is 100 percent derived from a proprietary blend of U.S.- grown soybean and corn esters. The strippers and solvents are designed to strip, lift and remove mastics, adhesives, paint and more from concrete, masonry, wood, metal and a host of other surfaces. As a result of past research activities funded by the United Soybean Board (USB) and the soybean checkoff, companies continue to bring products like these to the marketplace.
The aMAIZEing line is 100 percent biobased per ASTM D 6866-04 and complies with the Federal Biobased Product Procurement Preference Program in Section 9002 of the U.S. Federal Farm Security and Rural Investment Act of 2002. The stripper and solvent contains no environmentally hazardous ingredients, ozone depleting chemicals or hazardous air pollutants.
The biobased stripper and solvent can be used for paint stripping, mastic removal, adhesive removal, asphalt removal, degreaser, parts cleaner, concrete cleaner and lead paint removal.
"Soy products are very versatile and there's practically a soy-based answer for nearly all of industrial needs," says Todd Allen, chair of USB's New Uses Committee and a soybean farmer from West Memphis, Ark. "Companies like Green Products continue to push the envelope by incorporating soy as a replacement for petrochemicals in coatings and solvent products."
AMAIZEing contains 53 percent solids, with a boiling point of 280 degrees Celsius. The stripper and solvent has a health rating of 1, a flammability rating of 1 and a reactivity rating of 0. The aMAIZEing line has a storage stability of two years in unopened containers.
To get more information visit the Web site at www.greenproducts.net.
Soy-Based Products Keep Hiawatha National Forest Clean and Green
September, 2009
At the 879,000-acre Hiawatha National Forest in Michigan, soybean oil can be found in all kinds of applications, including hydraulic fluids, greases and oils, hand cleaners and bathroom cleaners. This National Forest partnered with the Michigan Soybean Promotion Committee (MSPC), which supplied the forest with biobased products using a grant funded by the United Soybean Board and soybean checkoff.
The partnership began when Toby Rhue, Hiawatha National Forest fleet manager attended a biofuels and biobased products meeting. There he met with Keith Reinholt, field operations director for the MSPC to discuss moving forward with biobased products. Rhue had several good reasons for his interest in soy-based products.
"An executive order had just been given by the president stating that federal agencies should support biobased products when the performance and costs are similar to purchasing alternative or biobased forms of lubrication," says Rhue. "Also, it just made sense for a national forest to use green products to have the least impact on the natural environment as possible."
That's why Rhue tested a number of products this past year to determine the efficiency of the soy-based products. Rhue plans to continue using soy-based products and increase the scope as more products become available and certified for use.
"The soy-based products seem to be right on par with petrochemical and chemical-based products," says Rhue. "In some cases, soy-based products have advantages. Everyone loves the hand cleaner, which has natural emollients to keep your hands from drying out from frequent use." Rhue at Hiawatha National Forest has also experienced excellent results in using products such as biobased lubricants and hydraulic fluids.
"To make projects like this work, you first need champions for the cause," says Reinholt of Rhue's interest in soy-based products. "Then you need to provide products for a fair performance trial. This project has worked just like it was supposed to, and I think there are opportunities to continue working with the Forest Service at the national and state levels."
To learn more about Hiawatha National Forest, visit www.fs.fed.us.
Methyl Soyate is the Key Ingredient in Eco-Friendly Products
May, 2006
Increasing concerns about the environmental impact of chemical cleaners and strippers has sparked an interest in biobased solvents. Methyl soyate, a methyl ester derived from soybean oil, is the key ingredient in an eco-friendly mix. This low-cost, readily biodegradable alternative could replace some of the 460 million pounds of traditional chlorinated and petroleum solvents (2004). Ongoing efforts by the United Soybean Board and the soybean checkoff seek to increase the methyl soyate utilization as an ingredient or carrier solvent.
Methyl soyate has a high solvency with a Kauri-butanol (KB) value of 58 and has low toxicity when compared to other common substances. In comparison to most commercial solvents, methyl soyate is safer to handle and store due to its high flashpoint of approximately 360 degrees Fahrenheit and high boiling point of well over 400 degrees Fahrenheit. In addition, the Environmental Protection Agency (EPA) does not list methyl soyate as an ozone-depleting chemical (ODC), hazardous air pollutant or volatile organic compound. Methyl soyates slow evaporation time can be seen as a disadvantage, but in certain applications methyl soyate outperforms other traditional solvents when longer settle times are needed.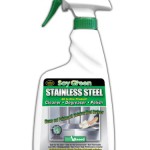 An increasing number of companies are beginning to offer multiple formulations of methyl soyate. For example, Soy Technologies offers SoyFast, SoyGreen 5000 and SoyGreen 6000, which utilize methyl soyate in the production of industrial cleaners and strippers. In testing, these products have demonstrated effectiveness equal to or exceeding their petro-chemical counterparts.
Beyond being an ingredient in cleaners and strippers to replace chlorinated or petroleum products, methyl soyate could find increased use as a carrier solvent. Solvents used as carriers and diluents in a number of alkyd coatings and adhesives include methyl ethyl ketone peroxide (MEK), toluene and xylene for coatings and methylene chloride (MeCL) and MEK for adhesives.
Methyl soyate is not limited to replacement of regulated industrial cleaning solvents. Due to its eco-friendly nature, methyl soyate can be used to clean up and recover spilled petroleum products from shorelines and streams. In fact, the EPA has listed a methyl soyate biosolvent on the National Contingency Plan product schedule for oil spills. It is also licensed by the state of California as a shoreline cleaner.
Formulated consumer products ranging from hand cleaners to auto-care to personal care products that utilize methyl soyate are already being produced and marketed. Additionally, expanding utilization of methyl-soyate-based co-solvents with ethyl lactate in products such as Vertec Biosolvents Vertec Gold solvent, and methyl-soyate-based co-solvents with d-limonene (citrus extract) in products such as CITRUSoy by Florida Chemical, Inc. also show promise. Vertec Gold is used in specialty coatings, inks and cleaners and offers increased versatility and high performance.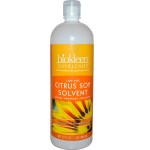 CITRUSoy solvent, cleaner and degreaser are suitable for removing gum, wax, tar, asphalt, graffiti and more. Other new emerging applications for soy-based-solvent products and processes include bioremediation, paper pulp cleaning and highway paving materials that replace asphalt.
Methyl soyate is proving to be a great alternative to chemical-laden cleaners and solvents. Development and commercialization of biobased products are rapidly expanding because of increased government regulations and market demands for safe, healthy and environmentally-friendly alternatives to terpene or petrochemical based solvents and cleaner/degreasers containing butyls. Opportunities to increase the usage of methyl soyate continue to grow as companies like Soy Technologies, Vertec Biosolvents and Bi-O-Kleen, Inc. seek out more and varied uses for methyl soyate-based-solvents and co-solvents.
Soy-Based Solvent Resources: So Fresh and So Clean
November, 2006
Health issues regarding industrial cleaners have prompted many manufacturers to incorporate biobased ingredients into their formulations. These products, derived from crops like soy, are becoming more commercially available.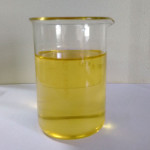 To help spur the development of soybased solvents, the United Soybean Board (USB) and the soybean checkoff have developed support items communicating the benefits of methyl soyate. A solvents brochure entitled Methyl Soyate: The natural solution for safer solvents was developed to communicate the chemical properties and performance of methyl soyate. A special formulations guide was also created to encourage manufacturers to replace petroleum with soy in solvents. The Formulary Guide to Methyl Soyate contains generic formulas canvassing general purpose cleaners, parts cleaners, graffiti removers, adhesive removers, paint strippers, ink cleaners and other applications.
Other resources developed by USB are available to manufacturers interested in incorporating soy into solvent formulations. A series of market opportunity summaries and technical data sheets have been created by USB. These resources utilize the knowledge of USB technical consultants to share what's new regarding the market potential and technical advancements of soy in solvents and other products, such as lubricants, plastics and adhesives.
Resources developed by USB are intended not only to increase the demand for soy-based solvents – they were created to educate manufacturers and users of the safety benefits that soy brings to cleaners. It is important that solvent users are aware of the potential dangers of using petroleum-derived solvents. Companies greatly reduce the risk of workers coming into contact with toxic substances such as glycol ethers, which are sometimes used in industrial cleaning products and can cause symptoms including headaches, blurred vision, bone marrow and reproductive health damage. Along with powerful cleaning, soy-based cleaning products offer safety for the people applying them because they do not contain petroleum distillates, which are central-nervous-system depressants and can have adverse effects on the kidneys and liver.
Soy-based solvents continue to be employed by many industries, including printing, manufacturing, machine parts washing and microprocessor cleaning. Companies in these industries that made the switch to soy-based solvents claim that their employees are happier due to safer working environments. They have also reported that soy-based solvents break down immediately and eventually degrade into water, mineral salts and other components and cause few hazardous issues.
Soy-Biobased Product Trials Help Reach Sustainability Goals
2015,  Shenandoah National Park
In a practical, commonsense way Shenandoah National Park (SNP) employees have progressively worked to develop and adopt sustainable practices, including the use of soy-biobased products, for the last 15 years.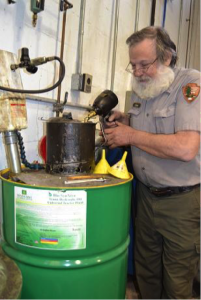 Kenneth Judd, mobile equipment servicer, is a big proponent of soy-based hydraulic fluid used in SNP hydraulic equipment and as transmission fluid because it is biodegradable and easier to clean up.
Nestled in the Blue Ridge Mountains of Virginia, SNP is home to the famous 105-mile-long Skyline Drive. SNP hosts an estimated 1.3 million visitors annually, making it one of the most popular of all national parks.
"The use of soy-biobased products as an element in our green purchasing program has been an effective way for the park to enhance our sustainability efforts and meet federal green procurement requirements," says James Northup, who became the park superintendent in 2013.
"We want the actual people who use the products to try them. If they like the way they work, then we buy them and use them as much as we can," says Charles Newton, lead sustainability coordinator and park safety officer.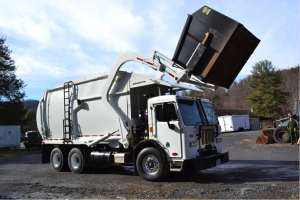 The biodegradable soy-based hydraulic fluid is used extensively in many of the 200+ pieces of equipment used throughout the park, such as this large refuse compactor truck.
A good example of this approach is soy-biobased hydraulic fluid. Since SNP first tried the product in the late 1990s, they have switched many of the 200-plus pieces of equipment that have a hydraulic system of one kind or another. The equipment ranges from huge trash compactor trucks, to long-arm mowers, backhoes and skid steer loaders. Maintenance activities on hydraulic system equipment utilize 150-200 gallons per year.
"Not only does the soy-based fluid work as well as its petroleum-based counterpart, the overwhelming advantage is that soy-based fluid is biodegradable and much easier to clean up if a hydraulic system leaks or a spill occurs. When you have more than 200 pieces of equipment, there are bound to be spills and leaks, so the ease of clean-up is extremely important.  It's not just the convenience factor, it's also takes less time and thus is more economical and less damaging to the environment," explains Newton.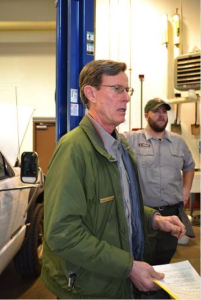 Charles Newton has the overall responsibility for coordinating park sustainability efforts. Much of the effort to date starts in the shop where this photo was taken.
In the early years, new equipment sometimes had warranty issues with the use of the soy-based fluid, but, according to Shop Foreman Stan Cockrell, most manufacturers now recognize soy-biobased hydraulic fluid as safe and effective to use.
"In fact, the product is also approved for use as transmission fluid by many manufacturers so we also use it in that way whenever we can," says Cockrell.
Biodiesel
SNP has used biodiesel in its more than 80 diesel vehicles for 10 years. As a government entity, SNP's source for biodiesel is through the Department of Defense, Defense Logistics Agency. B100 is delivered to the fuel contractor who mixes it with petroleum diesel before delivery to the park as B20.
Hand Cleaner
Shop mechanic Robert Vorous loves the soy-based hand cleaner because it's so much kinder to his skin.
A more recent addition is the use of soy-biobased hand cleaner for shop use.  "I love it," says mechanic Robert Vorous. "It cleans well and is far less harsh on my skin."
More Soy-based Products Trials
In its effort to continually expand its sustainability efforts, SNP is currently in the trial stage of using additional soy-based products including paint strippers, parts cleaners, chassis lubes, and graffiti remover.
Soy-Based Solvents Hold Their Own Against Chemical Counterparts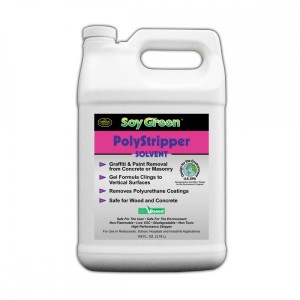 November, 2005
Many solvent manufacturers are replacing common petrochemicals in their products with biobased alternatives utilizing soy methyl esters, or methyl soyate. Methyl-soyate-based products provide manufacturers and consumers with several advantages over terpene, petrochemical based products or cleaners containing butyls in terms of VOC levels, toxicity, biodegradability, waste disposal and flammability. The United Soybean Board (USB) and soybean checkoff have played a significant role in funding research and development of methyl soyate for commercial solvents and have worked with companies such as Soy Technologies to fund soy-based solvents that provide safer alternatives to petroleum-based products.
Transesterification of soybean oil and methanol yields methyl soyate. The soy oil is heated and reacts with methanol in the presence of a catalyst. The reaction causes the separation of soy oil into methyl soyate and a co-product of glycerin. The methyl soyate goes through a water-wash process, where the water adheres to any impurities in the methyl soyate and filters them out. Next, the methyl soyate is dried and is then suitable for use in various products and applications.
Florida-based Soy Technologies is one company utilizing methyl soyate in the production of environmentally friendly cleaners and solvents, and 2005 marks the company?s second year of marketing and distributing VOC-compliant, patented technology to the industry. Three of the company's current 2005 VOC-Compliant products include SoyFast All-Purpose Cleaner Concentrate and Manufacturer's Base and two biosolvents, SoyGreen 5000 and SoyGreen 6000. In testing, these products have demonstrated effectiveness equal to or exceeding their petrochemical counterparts.
SoyFast All-Purpose Cleaner Concentrate is a ready-to-use cleaner/degreaser that can be diluted up to 1:30. It is also available as Manufacturer?s Base, which must be diluted to at least 1:30 and up to 1:150 depending on the level of cleaning or degreasing required. SoyFast is safe for use on aluminum, wood, painted surfaces, plastics, automotive finishes and other situations requiring cleaning and/or degreasing. SoyFast is safe to handle, store and transport as compared to many petrochemical cleaners and cleaners containing butyls. SoyFast is also water soluble, PH neutral, has a flash point of >300°F and a specific gravity of 1.0 gm/ml. VOC percentages vary; the All-Purpose Cleaner Concentrate is <0.5% and the Manufacturer?s Base has a VOC percentage of 5.87 undiluted and <.5 at minimal dilution.
SoyGreen 5000 is a biosolvent designed to be used undiluted for all stripping and removal operations, including paint stripping, adhesive removal, heavy-duty degreasing and carbon removal, printing ink removal and press cleanup. The product can be sprayed or brushed on and has dwell times ranging from 10 minutes to 24 hours if necessary. Longer dwell times are achievable due to SoyGreen 5000?s slow evaporation rate, a trait it shares with many of Soy Technologies? products. SoyGreen 5000 cannot be used for removal of polyurethane.
Technical data for SoyGreen 5000 includes a flash point of >200°F, .99 gm/ml specific gravity, PH neutrality and a VOC percentage of 4.41. Increased safety, environmental friendliness and economic parity make SoyGreen 5000 a strong alternative to petrochemical solvents.
SoyGreen 6000 shares almost all the same characteristics as SoyGreen 5000, including being cost-effective and an alternative to terpene or petrochemical-based products. The one characteristic it doesn?t share is that it?s a highly viscous liquid, which makes it ideal for use on vertical surfaces requiring the removal of paint, adhesives, coating removals and heavy-duty degreasing and carbon removal. SoyGreen 6000 is also not suitable for polyurethane removal. SoyGreen 6000 also has a flash point of >200°F, .99 gm/ml specific gravity, it is PH neutral and has a VOC percentage of 4.41.
The production and use of methyl soyate and biobased products continue to expand as increased government regulations and the market demand safer, greater performing alternatives to terpene or petrochemical based cleaners. Companies are taking a serious look at incorporating methyl soyate into their manufacturing processes. In many cases, companies are completely replacing petroleum contents in solvents with crop-based alternatives.