Category Archives: Uncategorized
Learn How To Market Your Soy Products to Over Half a Million Soybean Farmers
Do you have a well-developed, soy-based product but are struggling to put it on the market? Are you searching for more customers? There are more than 515,000 soybean farmers in the U.S. who want to support their industry by purchasing products that use soy technology. The United Soybean Board wants to help you market your products to these passionate consumers!
USB will host a webinar on Thursday, June 20, 2019 at 2:00 p.m. EDT on how to market to farmers. The hosts will share key insights from audience research, including demographics and personas, to provide soy product manufacturers with the information needed to market to this untapped audience.
Engaging in this webinar will also land you a downloadable marketing guide with insights into this sizable audience, a "Made with U.S. Soy" product logo and other digital content you can use to tell U.S. soybean farmers about your soy products. Sign up for the webinar here to reserve your place and start selling your soy products to an audience that wants to support them.
Ethox Chemicals Seeks Opportunity with Soy to Increase Performance
Companies are continually discovering the benefits of soybean oil or meal as ingredients for products ranging from industrial solvents to wood adhesives. There are already more than 1,000 listings in the United Soybean Board's Soy Products Guide. A recent addition to this guide is Ethox Chemicals. Based in Greenville, South Carolina, Ethox manufactures over 500 different specialty chemicals for a worldwide customer base. With much of its research and development activity focused on soy, the company is on the forefront of soy technology.
USB communications staff spoke with Jim Tanner, Synthesis Laboratory Manager at Ethox, about his work on the development of soy products and, in particular, a soy-based dispersant called E-Sperse® for use in the aerospace industry. Read on to find out what led Ethox toward using soy as an ingredient and what future products may be to come.
USB: What is E-Sperse, and what does it do?
Tanner: E-Sperse is Ethox Chemical's line of dispersants, a type of chemical that improves the separation of particles to prevent settling or clumping of paints, coatings and inks. E-Sperse 4754® is a new, natural oil-based dispersant that is effective in dispersing both inorganic and organic pigments into a variety of solvent and resin-based coating formulations. E-Sperse 4754 has been shown to be especially effective for difficult-to-disperse solar reflective metal oxide pigments in urethane aircraft paint formulations.
USB: What led Ethox to develop E-Sperse 4754 and the soy technology it employs?
Tanner: The development of nearly all of our soy-based products has come from specific customer requests. For example, we were presented with a customer challenge of achieving higher loading of clay filler in soybean oil for an ink application. To make a long story short, we discovered that the triethanolamine neutralized/esterified malleated soybean oil was an excellent dispersant for this clay in soybean oil. This led to the commercialization of E-Sperse® JT 85, a dispersant for clay in soybean oil. JT 85 is made up of roughly 90% soybean oil, and up to 40% higher loadings can be achieved.
USB: What qualities of soybean oil make it a good ingredient for dispersants and coatings? Are there any cost savings?
Tanner: There are several benefits of soybean oil. It has a higher molecular weight than typical "tail groups" in dispersants. This results in higher molar volume dispersants, which are much more effective in separating and stabilizing pigment particles. The soy tail group is also soluble in a variety of solvents and resins. Soybean oil is inexpensive and results in substantial cost savings.
USB: Is E-Sperse commercially available?
Tanner: E-Sperse JT 85 and 4754 are commercially available. We have other dispersants based on the same chemistry in evaluation.
USB: What is your rough estimate on the size of the market for dispersants with soy for coatings and personal care products?
Tanner: A rough estimate is 7 million pounds per year for coatings and 2 million pounds per year for personal care.
USB: How much soy do you currently use in formulating your products during a year? What do you anticipate it may be like five years from now?
Tanner: Our current volume is 500,000 pounds per year, but we expect significant growth. A five-year projection would be 5 million pounds per year.
USB: Do you continue to experiment with soy in other products?
Tanner: The largest part of my R&D time is currently spent on soy-based products. We have developed other derivatives of 4754 that are currently in evaluation. We have developed soy-based cleaners and lubricants and are currently exploring opportunities in personal care.
Find out more uses for soy technology by visiting soynewuses.org, and contact USB to get in touch with experts who can help you create soy products, use soybean oil and meal as product ingredients and answer any questions you have.
Auburn Study Shows Soy Adhesives Reduce Carcinogens, Boost Cost Savings
Research at Auburn University, funded by the United Soybean Board and recently published in the International Journal of Adhesion and Adhesives, shows several benefits of using soy flour, derived from soy meal, to create wood adhesive. The new study finds that soy-based wood adhesives are not only environmentally friendly due to no formaldehyde emissions but also come with attractive cost savings.
In this study, Auburn researchers focused on particle board, oriented strand board (OSB) and medium density fiberboard (MDF) applications. These types of boards are used in home construction and made by bonding pieces of wood with adhesive to maximize strength and stability.
Formaldehyde-based adhesives are being phased out in favor of methylene diphenyl diisocyanate (MDI) and phenol formaldehyde pairing with soy flour due to cost savings. The study showed that up to about 20% of MDI used in OSB can be replaced by soy flour without compromising board properties. Other key benefits are little or no new equipment is required to replace MDI with soy flour, and the soy flour bonds with MDI and wood, creating a safe but sturdy bond.
USB farmer-leader and Alabama soybean farmer Annie Dee was involved in this cutting-edge project. "North American OSB production is about 20 million cubic meters. These products are used indoors, where the moisture sensitivity of soy would not be an issue, and a higher level of soy flour substitution could be applied," says Dee. "There are also green benefits that accrue from the use of soy flour because MDI is hydrocarbon based."
"According to the study, although soy flour augments the properties of MDI to a small extent, its major benefit is cost savings,"[1] adds Dee. "Soy flour is about three times cheaper than MDI, so there is a significant cost savings for using soy in as high of a percentage as possible."
Environmental and sustainability benefits also go hand-in-hand with soy flour, in addition to added marketing potential. "Based on their purchases, consumers are demanding greener products to help protect the environment now and for future generations," says Dee.
U.S. soybean acres came in at nearly 90 million in 2018, putting soybean production at an all-time high, and making consistent supply a near guarantee for manufacturers using the ingredient in product formulations.
This study not only creates opportunity for both improved performance and economics for the wood products industry, but also could have much broader implications for the future. OSB competes with plywood, one of the most commonly used construction products today, and these results indicate OSB and plywood could be interchangeable. OSB has already seen significant growth due to its lower price and competitive performance.
Explore further on soynewuses.org to discover more about soy-based adhesives and thousands of other products that use soybean oil and meal technology. Contact us get in touch with USB technical experts who are available to help you use soy technology in products you're creating.

---
[1] Hand, W. G., Ashurst, W. R., Via, B., & Bangerjee S. (2018). Curing behavior of soy flour with phenol-formaldehyde and isocyanate resins. International Journal of Adhesion and Adhesives, vol. 87, pp. 105-108.
Industry, Academia Gather To Talk New Soy-Based Adhesive, Coatings and Paper Technology
Experts in using soybean oil and meal to create sustainable — and often better-performing — adhesives, coatings and papers met in St. Louis in early March for the United Soybean Board's Adhesives, Coatings, Paper and Biorefinery Technical Advisory Panel (TAP) meeting. TAP meetings provide a venue for industry, academia and USB technical consultants to share the latest advancements in soy technology and discuss commercialization efforts for new industrial products.
At the meeting, USB technical consultants gave an overview of current USB-funded projects. Recent projects include industrial uses for soy meal in adhesives, reducing the cost of soybean adhesive and resins and the potential for new discoveries for soy oil in other industrial product technology.
In addition to USB technical consultants, representatives from USB partners presented, including:
Arkema Inc.
Auburn University
Battelle
Iowa State
Low Mu Tech
Materials / Process Connexxions LLC
Rice University
Rust-Oleum
Sanctuary Systems LLC
Sherwin-Williams
Solenis
South Dakota Innovation Partners
Surface Chemists of Florida Inc.
The University of Akron
USDA Forest Products Laboratory
Presentations focused on innovative soy inclusion. Topics ranged from soybean meal, industrial uses of soy proteins, such as soy protein in soy flour for wood composite panels, creating valuable products from soy carbohydrate waste, and waterborne coatings that use high oleic soybean oil.
Gregg Fujan, USB Director and soybean farmer from Weston, Nebraska, attended a recent TAP meeting in Detroit, saying, "Soy is making an impact in the industrial product technology space. Goodyear started with the Assurance® WeatherReady™ tires, then created the Eagle® Enforcer All Weather™ tires and is now expanding lines and moving full speed ahead with the new Eagle Exhilarate™ tire. These tires not only cater to those who require high-performance qualities for their jobs, but also to those who drive everyday vehicles, due to expanding these tires in a variety of sizes."
Fujan also noted the developments in soybean oil used in surfactants and dust control. "Surfactants have been making progress and gaining a lot of momentum, while dust control hasn't been on my radar as much," he said. "Attending the meeting gave me a deeper knowledge of how soy is making an impact in these spaces. It is important to continue looking for these new uses."
Interested in researching soy technology or using soy as an ingredient in a product you're manufacturing? You can discover new uses for soy in product formulations on soynewuses.org, or contact USB and get in touch with our experts, who can help answer questions you may have about using soybean meal and oil as product ingredients.
Record Soybean Production Means Plentiful Supply for Manufacturers
Consistent supply is a crucial factor in selecting ingredients. Unexpected hiccups in ingredient supply can throw projects off-budget and skyrocket production prices. With soy, supply is there when you need it.
U.S. soybean production reached a record 4.39 billion bushels last year, creating abundant supply for soy customers such as industrial product manufacturers.
Soybean technology has expanded to planting regions outside of the traditional soybean belt. Soybeans are now grown in places like the Mississippi Delta and the Appalachian Mountains. Last year, farmers planted a record 89.5 million acres of soy.
Consistently improving soybean genetics has boosted yield over time. That, combined with increasing soybean acreage, makes for a market filled with supply.
Domestic and international demand continues rising for soybean meal, particularly in the animal ag sector. This provides ample amounts of soybean oil to serve as petroleum replacements in a variety of industrial products.
For industrial soy customers, this makes soy an ingredient they can count on.
Concrete Gets the Green Treatment from Cresset Chemical Company
Aside from use as pavers and planters, concrete doesn't usually find itself associated with the plant-based world. Instead, its associations include elements from urban landscapes: buildings, bridges, sidewalks and parking garages.
Cresset® Chemical Company has set out to make the world of concrete a little bit greener. Cresset has introduced an architectural quality release agent for concrete called Crete-Lease® Bio-Tru® ALL-Xtra with Poly-Release®. What differentiates this product from other form release agents is that it's made from soybean oil.
"The concrete industry has made great strides in converting to greener, more sustainable products and processes. However, to meet the exacting high visual impact standards of architects, the greener products have to perform as well as traditional applications," said Cresset Chemical Vice-President Jim Renda. "That was the challenge we faced during the development of the Bio-Tru line. What we have achieved does that and more! Our bio-based products compare favorably to our top-of-the-line architectural release agents."
But Bio-Tru goes beyond performance — it meets ASTM biodegradability requirements, has an impressively low VOC rating of 5g/L and helps projects secure LEED points toward qualification through these key areas:
Sustainability
Efficient use of resources
Biodegradability
Recycled content
Proximity
Cresset has earned the BioPreferredSM product certification from the U.S. Department of Agriculture for their Bio-Tru All Xtra release agent. This certification involves third-party testing and allows product manufacturers to include labeling that shows their products are federally verified as sustainable.

Companies like Cresset are finding soy to be an ingredient that comes with multiple benefits. With soy, they can develop products that perform to high standards, appeal to modern consumers and even qualify for advantageous programs and certifications.
Iowa Tax Incentives to Grow Soy Feedstock
Thinking about creating climate-friendly replacements for chemicals historically derived from oil or natural gas? A new tax credit positions Iowa as a prime spot to plant your facility.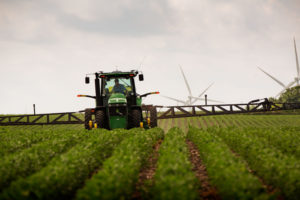 Legislation aimed at accelerating growth of the emerging biotech industry–turning  crop feedstocks into high value "building block" chemicals –may also be a good thing for product manufacturers looking for price competitive, sustainable feedstock suppliers.
Giving Credit Where Credit is Due
The Renewable Chemical Production Tax Credit passed the Iowa Legislature in March 2016 and was signed into law in April 2016.  The law gives a tax credit to businesses that produce qualified renewable chemicals in the state.
The credit is equal to $0.05 per pound of qualified chemicals produced, applies to individual and corporate income tax, and is refundable. The credit is available for chemicals produced beginning January 1, 2017, and ending December 31, 2026 (10 years).
The tax credit is limited to no more than $10.0 million per fiscal year in total awards and the credit is placed under the Economic Development Authority's (EDA) $170.0 million aggregate annual tax credit cap established in Iowa Code section 15.119.
Should valid tax credit applications exceed the annual $10.0 million available, the excess applications are awarded the first tax credits the following year. After the final year of eligible production (calendar year 2026), any eligible tax credit applications that do not receive tax credits due to the annual limit will receive tax credits the next year until the backlog is eliminated or until the end of FY 2030, whichever occurs first.
The credit will begin being awarded July 1, 2018, and cannot be redeemed until September 1, 2018. The maximum annual amount an existing business may receive in tax credits is $500,000 and the maximum annual amount a new business may receive is $1.0 million. In both instances, a company may only receive the credit for five years. Eligibility for the new credit is limited to businesses that organize, expand, or locate in Iowa on or after the effective date of the bill.