Soy-Based Composites Used in Waterless Urinals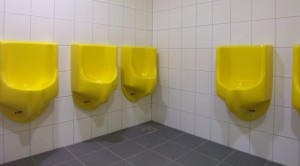 Soy represents a versatile feedstock for any company looking to replace petrochemicals with environmentally friendly alternatives. Waterless Company represents an example, using soy-based composites in their urinal products.
Waterless offers urinals with up to 35 percent Envirez®, a soy-based resin from Ashland Chemical. Soy-based resins reduce petrochemical use in the product and result in potential greenhouse gas reduction, according to Waterless.
"Visually and functionally the urinals featuring soy-based resins perform as well as all of our other fixtures," said Klaus Reichardt, Waterless Company's CEO. "With performance equal to other materials, the environmental attributes of soy were very attractive. Using soy-based materials gives Waterless a marketing advantage in providing more environmentally friendly products to our customers." The company tested its urinals according to the American National Standards Institute (ANSI) for warping, loads, scratch resistance and other categories. Waterless representatives believe the soy-based resin enables the performance they need, while allowing them to use renewable resources.
The fixtures are used for institutional, commercial, industrial or military purposes and have been installed in hospitals, offices, airports, schools, parks, sports and recreational facilities.
To learn more about the soy-based urinals, visit www.waterless.com to learn more about new industrial uses for soy, visit www.soynewuses.org.