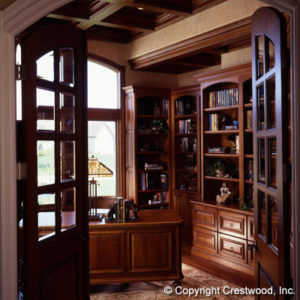 The International Agency for Cancer Research reclassified formaldehyde from a suspect carcinogen to a known carcinogen. Research support from the United Soybean Board led to the development of a soy-based, formaldehyde-free resin that bonds wood like a mussel to a wet rock. More than 50 million formaldehyde-free plywood panels have used this technology.
Soy-based adhesives are water-based systems formulated with natural soy flour and a proprietary crosslinking resin. When blended, the resin reacts with the protein in the soy flour to form a durable, water-resistant thermoset adhesive that is comparable in strength and performance to urea-formaldehyde-based adhesives.
Soy ingredients in adhesives reduce the release of volatile organic compounds (VOCs).
Soy ingredients in adhesives reduce the release of volatile organic compounds (VOCs). Sustainably grown, soy is in abundant supply. Research finds that soy flour requires less drying time, uses less water and produces less waste than conventional plywood glues. Soy adhesives have excellent water resistance and are available in a wide range of binding strengths.
Engineered wood products made with soy-based adhesives meet all global formaldehyde emission standards and are eligible for Leadership in Energy and Environmental Design (LEED) Green Building Rating System points for improved indoor air quality. Soy-based adhesives are eligible for California Air Resources Board (CARB) Phase 2 exemptions. Research continues on:
A soy-derived binding adhesive as a replacement for formaldehyde containing adhesives in fiberglass insulation applications.
A cost-effective, soy-phenol formaldehyde resin combination for use in oriented strand board core applications. Up to 20% substitution of powder PF as well as p-MDI with soy flour in OSB has now been achieved with no significant overall loss in properties, including moisture property performance.
Improved soy properties in wood bonding through jet cooking.
Foamed glue extruded systems in laminated plywood veneers, where soy flour is substituted for animal blood-derived proteins as a foaming agent for phenol formaldehyde resins.
Formaldehyde-free resins incorporating soy meal or flour in wood composite systems like plywood, paneling, particleboard and engineered wood flooring.
Soy-protein-based adhesives chemically modified to produce strong, heat-resistant bonds when adhering paper substrates.
Liquid, rapid-set soy-based adhesives for packaging.
Strong, sound-reducing, installer-friendly soy adhesives for flooring installations.