Soy-Based Solvent Stands Up to Stains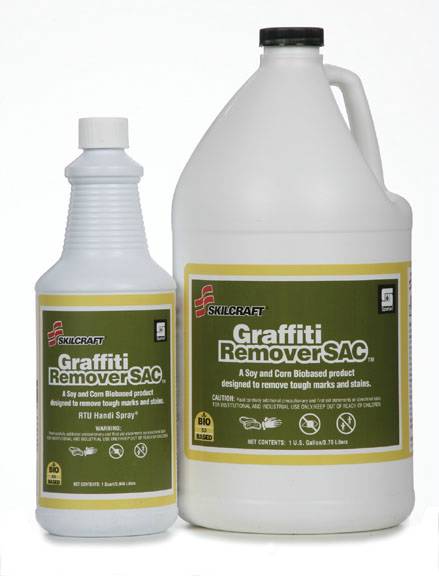 February, 2009
Using soy as its primary ingredient, Graffiti Remover SAC represents another biobased alternative to petroleum-based solvents. Graffiti Remover SAC, from Spartan Chemical Company, meets volatile organic compound (VOC) standards while producing minimal fumes compared with other graffiti removers according to company sources.
Graffiti Remover SAC, which stands for Soy And Corn, is third-party certified to contain 53 percent renewable biobased ingredients. About 60 percent of the biocontent is derived from soy esters; the rest comes from corn esters. The United Soybean Board and soybean checkoff fund research and development of new uses for soy.
Although there is no standardized test for graffiti removers, Spartan Chemical Vice President of Research and Development Bill Schalitz says Graffiti Remover SAC ranks favorably with the competition based on comparative removal tests that measure a solvent's ability to clean multiple soils from various substrates. According to Schalitz, biobased products generally remove the same soils but require more time to work.
"We feel our soy-based product performs as well, and in some cases better, while offering a solid balance between health, environmental and performance attributes," Says Schlitz. According to the company, Graffiti Remover SAC will remove paint, marker, ink, crayon and pencil from a wide variety of surfaces, including glass, tile, stainless steel, desk tops, fiberglass, metal and marble. It will also remove scuff marks, wax residue and adhesives. A ready-to-use product, Graffiti Remover SAC is competitively priced among the middle- and high-end products in a stain-remover-crowded market, Schalitz says.
To learn more about Spartan Chemical Company, visit www.spartanchemical.com