Soy Battles Oil Spills
January, 2015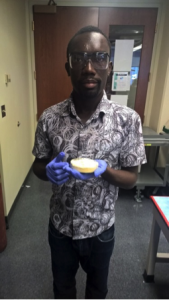 Emmanuel Nyankson, a postdoctoral scholar in the School of Engineering at Virginia Commonwealth University, worked with Dr. Gupta to develop an oil spill derived from a natural surfactant, soybean lecithin.
The lesser of two evils. That's the way Ram B. Gupta, Ph.D., associate dean for research and a professor of chemical and life science engineering at Virginia Commonwealth University (VCU), views the chemical dispersants currently used to clean up oil spills.
"They get the job done, but they are most certainly not benign," Gupta says of the hydrocarbon-based surfactants that are typically used in oil spill dispersants.
After seeing the 2010 Deepwater Horizon oil spill devastation in the Gulf of Mexico and the tar balls that littered the shoreline, Gupta decided to look for a less toxic way to formulate dispersants used in these kinds of disasters. According to the U. S. Environmental Protection Agency, approximately 4.9 million barrels of oil flowed over 87 days following the Deepwater Horizon oil rig explosion.
At the time, Gupta was a professor at Auburn University, about 230 miles north of the Gulf, where he tested his idea in the lab. Gupta and his team got to work and developed a formulation derived from a natural surfactant, soybean lecithin.  Soy lecithin is known for its ability to mix oil and water, and is commonly used in food products.
The Scoop on Dispersants
Dr. Gupta and his co-researchers found their dispersant formulation, which uses powdered soybean lecithin, "is expected to be environmentally benign because soybean lecithin is biodegradable, less toxic, and ecologically acceptable."
Dispersants break down oil into small droplets that bacteria can then easily degrade. However, the dispersants used today to combat oil spills can be harmful to both humans and aquatic life.
In January 2015, EPA cited toxicity and environmental concerns related to chemical dispersants like those applied during the Deepwater Horizon spill. EPA proposed to amend federal regulations that govern the use of oil spill dispersants. The proposed new requirements "are anticipated to encourage the development of safer and more effective spill mitigating products, and would better target the use of these products to reduce the risks to human health and the environment."
A Better Way – With Soy
Gupta and his co-researchers found their dispersant formulation "is expected to be environmentally benign because soybean lecithin is biodegradable, less toxic, and ecologically acceptable."
In addition, because soy lecithin contains phosphorus and nitrogen, it has the ability to speed up bacteria activity, which can aid in breaking down the dispersed oil even faster.
Gupta continued his research at VCU where his team further refined the soy lecithin formulation in the lab. Their results are now published.  "Soybean Lecithin as a Dispersant for Crude Oil Spills," appeared in the May 2015 issue of the peer-reviewed journal, American Chemical Society's ACS Sustainable Chemistry & Engineering.  The researchers found that formulations derived from soy lecithin performed effectively as dispersants and have the potential to replace traditional dispersant formulations.
Several companies have approached the researchers about further testing, and eventually commercial development of the product.  EPA would also have to approve it for commercial use.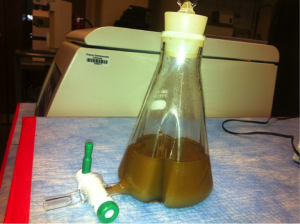 After soy lecithin is added to crude oil and placed on an orbital shaker for ten minutes the oil is removed from the surface of the synthetic seawater and dispersed into the water.
In the meantime, Gupta and his team will continue to further enhance the formulation to lower the application cost. "We would like to design it so that the dispersant can be easily applied using aircrafts for sea application," he said. "We will also work to ensure the formulation works in both cold and warm temperatures, and in both the sea and on land. "
Gupta points out that with one or two large oil spills occurring each year somewhere in the world, the demand for a cost-effective, environmentally friendly dispersant product is definitely there.
Two other soy-biobased products have been successfully used for oil spill cleanup. Nature's Broom, a biobased absorbent, helped with the 2010 BP Deepwater Horizon spill in the Gulf of Mexico.  Specifically, Nature's Broom helped decontaminate equipment and clean up beaches and marshes. Nature's Broom encapsulates and binds with the oil. It contains natural organisms that, when moisture content and temperature allow, can bioremediate the oil into nontoxic compounds in about 12 weeks. For more, visit Nature's Broom.
Additionally, Randall von Wedel and his team at CytoCulture International, Inc., a California-based environmental biotechnology firm, pioneered a biobased oil spill shoreline washing agent in the 1990s. Clean up crews spray the soy-based biosolvent from shallow draft boats onto oil-covered marsh vegetation or small beaches normally unreachable by land.  It is then rinsed with seawater and the dissolved petroleum mixture is recovered using small mechanical skimmers.