Corporate Sustainability
Life Cycle Profile Shows U.S. Soy Delivers Environmental & Energy Benefits
Greenhouse Gases Reduction Is Equivalent of Taking 21 Million Cars Off the Road
The United Soybean Board released a peer-reviewed life cycle profile in 2010 that documents multiple energy and environmental benefits of U.S. soybean farming and processing. It confirms why manufacturers are increasingly using U.S. soy in green chemistry for a wide array of biobased products.
Renewable by nature, U.S. soy is used as an ingredient in a diverse group of biobased products. They range from biodiesel that fuels vehicles to the resins that go into the exterior panels of cars and farm machinery, to spray foam insulation for buildings, to lubricants for many uses.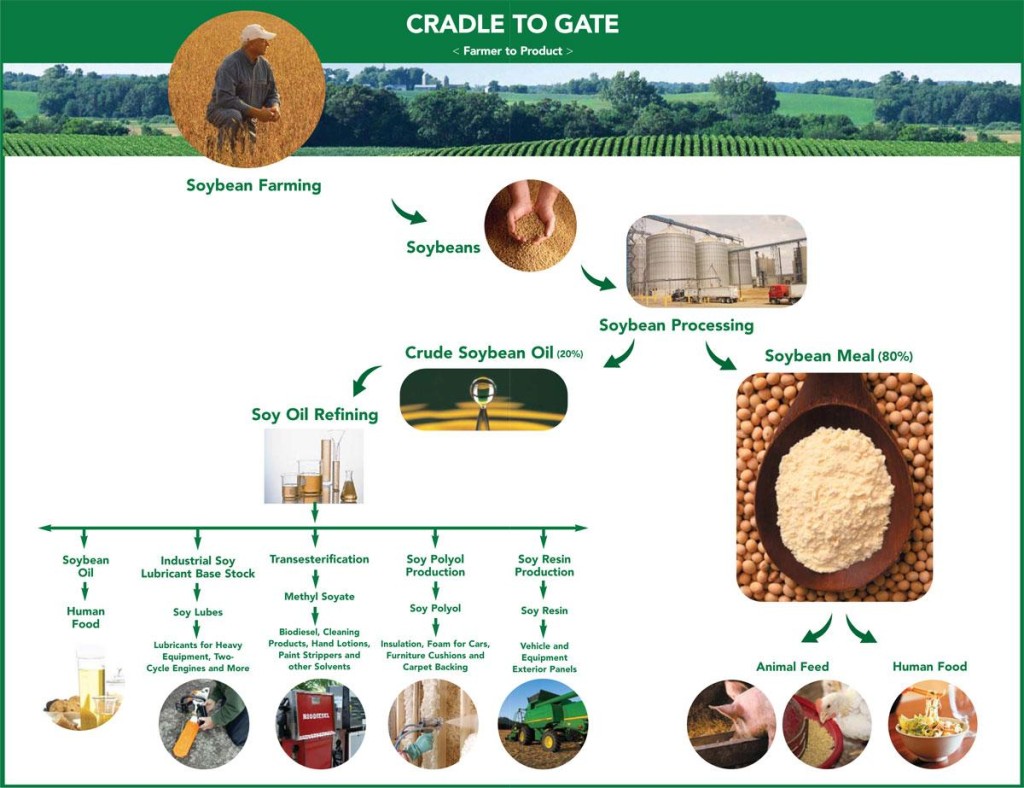 Key Findings on Soybean Production and Processing
Significant greenhouse gas reductions are identified through soybean production. As soybeans grow, they remove greenhouse gases from the atmosphere. The 3.36 billion bushels of soybeans in the United States in 2009 removed the carbon equivalent of taking 21 million cars off the road when the figures are computed using the Environmental Protection Agency's Greenhouse Gas Equivalencies Calculator.
Soybean yields are on the rise. According to USDA data, the average soybean yield for 2016-2019 was 50.1 bushels per acre.
The calculated release of nitrous oxide, a greenhouse gas, is 85% less than the data contained in the U.S. LCI database due to a corrected emission factor issued by the International Panel on Climate Change in 2006.
The updated data show approximately 20% less direct energy used in soybean farming due to reduced diesel and gasoline usage.
Soybean processing facilities reduced their energy consumption by 45% compared to 1998 data.
Also, as part of the study, a life cycle impact assessment (LCIA) was completed for each of the four soy-derived feedstocks using the updated information. These LCIAs show the soy-based feedstocks each significantly reduced greenhouse gas emissions compared to their petroleum-based counterparts. In addition, all four of the soy-derived feedstocks had lower fossil fuel depletion impacts than their petroleum-based counterparts.
The study provides an essential resource for companies to update life cycle assessments on their specific products made using U.S. soy. You can read the full Life Cycle Profile Report here.
Additional Resources: