Soy-Backed Carpet Available in Many Colors…All Green
January, 2007
With petroleum prices being historically unstable, industry leaders are continuously working to find new ways to replace petroleum with renewable resources in their products.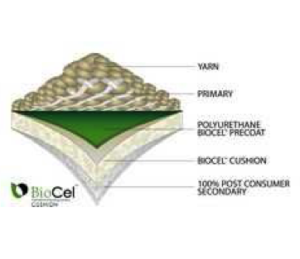 One use for domestically grown soybeans has brought soy from the field to the floor. Universal Textile Technologies (UTT) has developed a soybased carpet backing that is in use around the world.
UTT has been working on biobased polymers in carpet backing technology since 1999. Biobased polymers are polyurethane polymers that are manufactured with a portion of the polyol coming from a renewable resource. UTT utilizes soybean oil which is first extracted from the soybeans and stabilized by removing gums and waxes. It is then converted into a polymer. This polymer becomes an integral part of the carpet backing, locking in the carpet fibers.
BioCel is a soy-based carpet backing manufactured by UTT to withstand abuse in high-traffic areas in places such as schools, churches and hotels. The United Soybean Board (USB) and soybean checkoff have worked with UTT over the years, first funding some promotional activities with UTT last spring.
UTT uses soy backing in all of their backing systems, which contain between 10 percent and 14 percent soy oil. This use of domestically grown soy contributes to the American economy as well as the environment by implementing a renewable resource where petroleum once was used. UTT enjoys the benefit of having a more consistent price for soy opposed to having to gamble with ever-changing petrochemical prices.
Another advantage of using this polyurethane backing is a longer life cycle for the carpet due to it being able to endure repeated cleanings over the years.
Similar backing manufactured by UTT is being used for artificial turf installed anywhere from putting greens to sports stadiums all over the world. In the future, this soy backing may be coming to a hotel near you, and you could even have the option of using this soy backing in your home. UTT hopes to launch a hospitality program for its backing followed by a residential program, probably in late 2007 or 2008.
To learn more about Universal Textile Technologies and their products, go to http://www.universal-textile.net/.