Impact Gel Softens the Ride
2012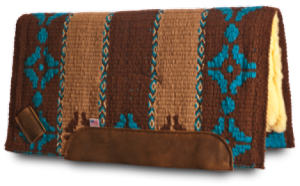 Equestrian activities, from the traditional four-legged equine variety to the two-wheeled "steel horses" romanticized in biker lore, can be a real pain in the rear. When Impact Gel sought to alleviate the rigors of riding, both on the ranch and on the road, the Ettrick, Wisconsin-based company turned to soy oil to create the gel incorporated in its saddles and seat pads.
"One of the primary things that makes Impact Gel different is that we're green," says Impact Gel owner Matt Kriesel. "Our gel is soy-based, and the molecular structure of our technology stops energy from transferring through, unlike a synthetic gel, which produces a rebound."
Kriesel describes soy as "the world's greatest energy absorber," and the robust video channel on Impact Gel's website goes to great lengths to illustrate the gel's superiority. Product demonstrations featuring Kriesel's gel-covered hand being smashed by a hammer and run over by a car were viral hits on YouTube, and eventually adopted on the infomercial circuit by legendary "pitchman," Billy Mays.
The dramatic demonstrations serve a greater theme of educating consumers on how the gel disperses vertical impact, from the strike of a human foot against an insole to the saddle tree resting on a horse's spine. A side-by-side comparison of Impact Gel and a synthetic competitor show Kriesel bouncing a golf ball off a popular insole, while the soy-based gel absorbs the impact with almost no recoil.
In addition to everyday uses for the product, Impact Gel has partnered with Flexible Foam Products to infuse the gel into mattress foam. The gel even protects technology, through a variety of cases for the iPhone 4.