Skateboard Company Rolls Out Soy-Based Wheels
November, 2010
Sector 9, a leading manufacturer of skateboards and skate apparel, will roll on soy, thanks to new formulations for its skateboard wheels. Deltron, Inc., and its manufacturing subsidiary Elasco, Inc., formulate and manufacture Biothane brand polyurethane wheels made from soybean-based polyols for Sector 9.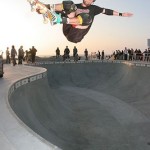 When Elasco developed proprietary formulations to produce polyurethane wheels using soy polyols, Sector 9, which is owned by boardsports market leader Billabong, seized the opportunity to be the first skateboard company to offer more sustainable wheels.
The Biothane Soy Compound Skateboard Wheels offer quick-turning maneuverability, along with size, strength and stability, designed for high performance and controlled cruising.
Elasco created polyurethanes using soy-based polyols that match the performance of petrochemical-based polyurethane, while decreasing their carbon footprint. While traditional polyurethane products come from petrochemicals, Elasco combines polyols produced from soybean oil with isocyanate and other ingredients to create new polymers.
According to Elasco, soy-based polyol resins used in their formulations reduce related carbon emissions from the manufacturing process by 36 percent, require less energy to produce, use sustainable materials, are free of VOCs and reduce demand for and reliance on non-renewable petroleum reserves. The manufacturing process can reduce fossil fuel consumption by 61 percent.
Deltron's wholly owned Elasco subsidiary is an engineered plastics and polyurethane molding and manufacturing company. Elasco has been in business since 1979 and has a highly efficient production facility in Southern California. The company provides complete design and manufacturing services including prototype work, mold and tooling design, manufacturing, custom casting, plastic injection molding and proprietary polymer mixing.
To read more about Elasco, visit http://www.elascourethane.com/.