Soy-Backed Grass Centerpiece of Outdoor Fun
2015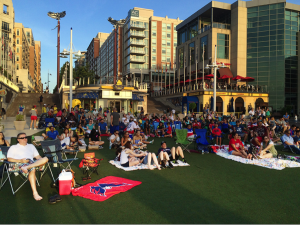 Night and day, National Harbor's thousands of guests benefit from the durability as well as natural look and feel of the soy-backed SYNLawn grass. Photo credit: National Harbor │Peterson Companies
Zumba classes, concerts, and sporting event viewings are all enjoyed on soy-backed SYNLawn® artificial grass at National Harbor, a premier Washington D.C. area waterfront destination.
"We have over 12 million visitors annually and we needed something that could handle that traffic. The SYNLawn looked and felt the best. It was the most like natural grass and it has enhanced our guests' experience." said Kent Digby, Senior Vice President of National Harbor Operations, which is located minutes from the nation's capital on the Potomac River in Maryland.
The venue's centerpiece is a beautiful plaza covered with artificial grass, making it low-maintenance and comfortable.  National Harbor installed the artificial grass in 2014.
Digby adds that being able to spray paint the grass with different sports themes is an added bonus. For example, National Harbor painted a soccer field on the artificial grass during Women's World Cup and added a tennis court design during a summer tennis match viewing.
SYNLawn offers a 15-year manufacturer warranty. It is 100 percent recyclable.  SYNLawn's EnviroLoc™ Backing System features BioCel™ manufactured by Universal Textile Technologies. BioCel uses soy-based polyol technology developed with support from the soybean checkoff.  Based on UL third-party verification, soybean oil displaces 60 percent of the petroleum-based polyol in BioCel.
National Harbor paints their soy-backed SYNLawn for special events where guests gather to view sports and more on the big screen near the SYNLawn. Photo credit: National Harbor │Peterson Companies
Each year, about 600,000 U.S family farmers grow soybeans on land that covers the rough equivalent of 60 million football fields. Often called the "miracle bean," a peer-reviewed life cycle analysis supports that U.S. soybeans can collectively remove from the atmosphere the carbon equivalent of taking 22 million cars off the road in just one year.