Soy-Backed Grass Solving Problems Coast to Coast
2015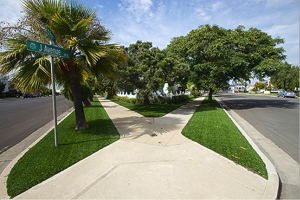 From the severe drought plaguing the western United States, to the re-imagining of city parks with innovative and sustainable landscapes, to pesky insects, soy-backed artificial grass is part of the solution.
Because SYNLawn synthetic grass has a biobased backing, it can help buyers increase purchases of biobased products and at the same time reduce water consumption.
Federal agencies are facing new water reduction requirements as a result of President Obama's new Executive Order:  Planning for Federal Sustainability in the Next Decade (EO 13693). The EO directs federal agencies to reduce by 2 percent annually through fiscal year 2025 the gallons of water used for industrial, landscaping, and agricultural consumption relative to fiscal year 2010 baseline.
SYNLawn artificial grass is made with a soy-based backing called BioCel™ manufactured by Universal Textile Technologies. BioCel uses soy-based polyol technology developed with support from the soybean checkoff.  Based on UL third-party verification, soybean oil displaces 60 percent of the petroleum-based polyurethane in BioCel.