Soy-Based Carpet Backing Steps Up Residential Sales
November, 2009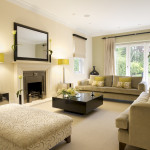 Universal Textile Technologies (UTT) introduces EnviroCelTM Home, the first soy-based, performance enhancing polyurethane carpet backing for the residential market. The United Soybean Board (USB) and UTT have worked together since 2004 when UTT incorporated soy-based polymers into its carpet backing technology.
UTT's EnviroCel and BioCel® carpet backing lines have long been recognized in the commercial market and in governmental circles. Now, through a partnership with Southwind Carpet Mills/Cherokee Carpet Industries based in Dalton, Ga., the company brings the same performance to the residential market.
Southwind saw EnviroCel Home as a great benefit to homeowners and families. The product has insulating properties that reduce energy use and noise levels, according to Southwind. The soy-based backing extends the life of the carpet and provides an installation friendly product, according to Southwind.
EnviroCel Home replaces over 90 percent of the petroleum-based polymers in the carpet backings polyurethane formula with biobased polymers derived from U.S. soybeans. In addition, the carpet backing contains renewable and recyclable materials. Manufactured with a secondary backing of 100 percent post-consumer recycled plastic, the backing improves air quality and makes a smaller footprint by lasting longer, so less carpet winds up in landfills.