Soy Carpet Backing Handles Hospitality Industry Traffic
January, 2008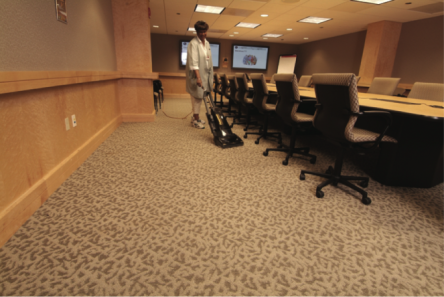 The United Soybean Board (USB) and soybean checkoff support new industrial uses for soy, such as Universal Textile Technologies new soy-based carpet backing. EnviroCel is the first high-performance soy carpet backing designed specifically for the various installation and performance requirements of hospitality and high-end residential use.
The soy-based carpet backing is designed for use in hotel rooms, corridors and other mid-traffic environments and contains environmentally friendly materials at levels ranging from 55 percent to 85 percent of the weight of the product. EnviroCel technology replaces 100 percent of the petroleum-based polyols in its polyurethane formula with soy-based polymers from domestically grown soybeans.
"EnviroCel adds moisture resistance to the carpet backing," says Doug Giles, marketing director for Universal Textile Technologies. "The backing is not affected by water or temperatures changes and will withstand repeated wet cleanings." The soy polyurethane backings are recognized for their ability to support heavy furniture and extend a carpet's useful life, making replacement less frequent. The backings feature an extruded fiberized adhesion layer that provides increased flexibility and delamination strength while significantly reducing product weight. The EnviroCel line features four types of soy carpet backing that can be suitable for stretch-in or direct glue applications, stretch-in over tack strip or double-stick applications. Different types also feature a 16-ounce pad and a 30-ounce attached biobased polyurethane cushion. The carpet backing has low volatile organic compounds (VOCs) and the rapidly renewable and postconsumer recycled content contributes toward the total project credit for LEED certification. EnviroCel can be specified for virtually any carpet suited to the hospitality market.
"America's soybean farmers are proud to not only fund the development of new uses for soy in a variety of different markets, we are also proud to partner with industry to reduce the use of petroleum in products," says Todd Allen, USB New Uses Committee chair and a soybean farmer from West Memphis, Ark.
To learn more about EnviroCel, visit www.universal-textile.net