Soy-Foam Furniture Expands into New Markets
March, 2009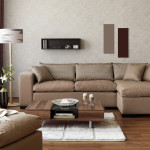 The development of soy-foam furniture has been a hot story this year. The soybean checkoff helped fund the initial research on soy-based foam in furniture at Pittsburgh State University's Kansas Polymer Research Center (KPRC). From there soy-foam furniture has gained popularity and now more than 30 furniture companies are using soy foam.
Cargill and the KPRC partnered to develop the first commercial soy-based polyols used in flexible foams for furniture. Today Cargill sells those polyol products under the BiOH brand and counts some of the biggest names in retail among its customers.
The foam manufacturing process for soy foams involves a reaction between petrochemical -based polyols and other petrochemicals. Soy polyols can be substituted for a portion of petrochemical polyols. This process uses only the soybean oil, leaving the soybean meal for human and animal consumption. Currently, polyols are available with soy content ranging from 30 percent to 50 percent. Finished products using these polyols vary in soy content depending on type of application.
The industry is working to increase the percentage of soy in foam furniture applications and hopes to reach 100 percent use of the soy polyol, which would equate to about 67 percent bio-content in finished foam. The key will be to increase soy content without compromising the product and more research is needed before 100 percent soy products are available.
Mattress companies have also embraced soy-based foam. Last summer, Martha Stewart Living unveiled The Good Bed, which uses soy-based foam in its new line of mattresses. Several other mattress companies are using soy-based foam as well.
Home furnishings leader Crate & Barrel uses soy-based foam in many of its upholstered products to minimize petrochemical-based foam. These green improvements have been made without adding expense for customers.