Soy Important Part of Water Saving Urinal Technology
January, 2008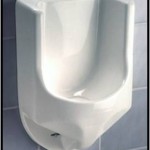 Waterless Company now offers soy into their urinal products to show environmental possibilities in manufacturing. The Waterless Company manufactures urinals that incorporate soy into their composite fiberglass. The soy resin technology originated with Ashland Chemical.
The soy-based urinals are No-Flush urinals that work completely without water or flush valves. Due to the dryness of the fixture, bacteria growth is inhibited and odors are eliminated through the use of BlueSeal.
"The urinals have been tested according to the American National Standards Institute (ANSI) for warpage, loads, scratch resistance and other categories," says Klaus Reichardt, Waterless Company managing partner. "The urinals with the soy-resin performed as well as other standard materials, with similar costs. With performance equal to other materials, the environmental attributes of soy were very attractive."
Reichardt says he read an article about soy resins so he investigated their possible use in the company's urinals. The primary reason the company was interested was because they felt soy resin allowed the performance they needed, and allowed them to use renewable resources such as soy. These early Waterless urinals generally consist of about 25 percent to 30 percent soy resin, according to Reichardt, with the hope to use a higher percentage in the future. The urinals can be used for institutional, commercial, industrial or military use. The urinals have been used in hospitals, offices, airports, schools, parks, sports and recreational facilities.
There are currently four fiberglass urinal models that are available to be made from soy resin.
"The soybean checkoff works with industries of all types to incorporate soy into their products," says David Wilson, USB director and soybean farmer from Lincoln, Ala. "Soy is becoming more popular in industrial uses because of its versatility and because of its environmental and cost benefits."
To learn more about the soy urinals, visit www.waterless.com