Soy-Plastics Help Bring Home the Bacon
March, 2008
Hogs have long been top consumers of soybean meal, but they may soon be eating it out of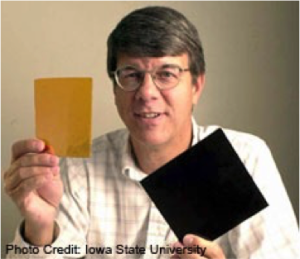 feeders made from a soy-based plastic composite, thanks to research from Dr. Richard Larock of Iowa State University (ISU).
The United Soybean Board (USB) and the soybean checkoff support new uses for soy in a number of areas, including soy plastics. Funding from the Iowa Soybean Promotion Board helped the research in its initial stages.
A few years ago, the ISU team started making composites with glass fibers to strengthen the soy resins. The researchers are looking at options to create a mold to begin making hog feeders for field trials. "We were looking at biobased starting materials and soybean oil is economical and has unique properties making it a good fit," says Larock.
"The soy-based resin is very good at dampening noises and vibrations and has very good shape memory properties." Larock has invented and patented a process for producing various bioplastics from inexpensive natural oils, such as soybean oil, which make up 40 to 80 percent of the plastics. The ISU team looks at a variety of resins and composites made from materials, such as soy hulls, corn stalks, distillers dried grains and other by-product materials.
"The next steps are to find an entrepreneur and raise funds to develop new materials or molds to begin producing the hog feeders," says Larock. "We have worked with pre-existing companies in the past, but may form our own company. We are also waiting on the results of grant proposals."