Soy the Heart and Sole of New Footwear Product
July, 2010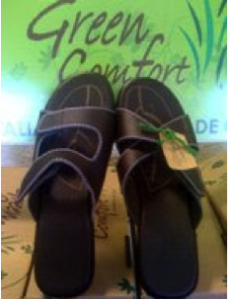 Since 2008 some women throughout the world have been sporting a new shoe containing a soybean polyol made by The Dow Chemical Company.
The United Soybean Board (USB) and soybean checkoff helped fund some of the initial scale-up to develop the soy polyol used in the shoes.
Grupo Ravi, a well-recognized Mexican footwear company, introduced the product as well as envisioned and developed it beginning in 2006. The shoe's sole and insole consists of a soy-based polyol made by Dow.
Giuliano Garuti, Dow's footwear global marketing manager, says the polymer contains 20 to 25 percent of a renewable product, which can be soy-based or other biobased products. The polyol can be polymerized using an isocyanate, creating a soy-based polyurethane.
"Using soy-based polyurethane helps reduce our consumption of petrochemicals, creating an environmentally friendly product for manufacturers and ultimately consumers," Garuti said.
Wal-Mart de Mexico launched the sale of the Green Comfort sandal by doing a pilot test in 40 stores. In April 2009 Wal-Mart expanded the sandal's distribution to its 155 Super Centers in Mexico as part of its "Month of Earth" campaign in that country. Garuti expects the Green Comfort sandal to be adapted by shoe manufacturers internationally.
Currently the product is made for niche markets for consumers wanting to buy environmentally friendly products, but Garuti sees potential for that to change. "Perhaps in five to ten years polyurethane like this one will be used more as an industry standard considering the increasing emphasis on green products in the United States and European governments," he said.
Grupo Ravi have joined forces to introduce a new product to the Mexican market – the first ecological sandal for women. Following an intense and creative collaboration across the entire value chain including design, manufacturing, packaging and distribution, the ecological sandal – named "Green Comfort" – was launched in December 2008. After 15 days, 50 percent of the inventory was already sold, proving once again that good environmental stewardship also means good business.
Through a shared vision of creating sustainable footwear, Grupo Ravi, a well-recognized Mexican company with more than 50 years of expertise in the local footwear market, envisioned and developed the concept of an ecological sandal which matched Dow Polyurethane Systems' innovative technologies.
Under the umbrella of The Dow Chemical Company's 2015 Sustainability Goals, Dow developed VORALAST(TM), a variety of polyols based on natural oils combining global innovation capabilities with local expertise to create an environmentally sound alternative to shoe soles and insoles. The ecological sandal is produced with vegetable-pigmented leathers, zero solvents in the manufacturing process and is sold with 100 percent recyclable and recycled packaging.
"'Green Comfort' is an innovative product in terms of design and technology, but it is also a strong demonstration of the value that collaborative work can bring not only to our businesses but to everyday consumers," said David Blakemore, President of the North Region of Dow Latin America. "Aligned to our corporate commitments, we have delivered a sustainable alternative to footwear consumers thanks to innovation across the value-chain that sets the example for sustainability in Mexico."
Aligned with its commitment to create Sustainable Value Networks and to promote more environment-friendly products, Wal-Mart de Mexico decided to partner with Grupo Ravi and Dow. As a pilot test, Wal-Mart offered the "Green Sandal" at 40 of its stores two basic black and brown designs. Wal-Mart plans to expand the distribution to its 155 Super Centers starting in April 2009 as part of its "Month of Earth" campaign.
"Due to the great response, we are planning to grow the array of 'Green Comfort' designs including a new model for men, expanding the scope of the market segments we cover," said Víctor Campos, General Director of Grupo Ravi de México. "Our ecological sandal maximizes comfort by combining great flexibility to reduce tiredness, improved anti-skid properties, high impact-absorption for prolonged-use, and a whole ergonomic and biomechanics applied to the insole and sole design. In this challenge, Dow's support and high-technology materials produced the perfect fit."
"We are committed to providing our customers with an ample array of products that serve their needs while preserving the environment for future generations. This task requires the support and cooperation with other companies that take sustainability seriously like Dow and Grupo Ravi. We have established a virtuous relationship where companies, customers and planet, create a win-win-win cooperation," said Raul Arguelles, Senior Vice President for Corporate Affairs and Human Resources, Wal-Mart de México.
Based on the shared commitment to better serve consumers, the three companies have structured a co-branding campaign to create awareness about the ecological and comfort properties of the sandals. These benefits have proved to be essential in the decision-making process of the female consumers in the successful launch of the product.