Synthetic Grass Greener with Soy Backing
May, 2010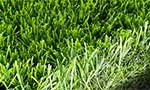 Synthetic lawn and turf may not actually grow, but its popularity continues to develop, due to concerns about water usage and increased interest in urban areas. That growth comes with the backing of soy, as Universal Textile (UTT) uses its BioCel and EnviroCel backing on a number of turf products. The United Soybean Board and the soybean checkoff helped develop soy based polyols which, UTT used to develop their carpet backing system from the beginning to develop the backing products, which UTT also uses for carpet-backing.
UTT began using soy-based technology on synthetic turf in 2007, with the goal of providing sustainability to the synthetic turf industry before customers demanded it, says Doug Giles, UTT. Sustainability wasn't the only attribute, as soy-based turf backing also performs well.
"Performance-based polyurethanes replaced the traditional latex backing systems earlier," says Mike King with Synlawn, a manufacturer of synthetic landscape grass. "With the soy-based polyurethanes from BioCel and EnviroCel, we are able to meet federal and state requirements, as well as demand for an environmentally friendly product."
"Soy-backed turf incorporates all of the performance attributes previously associated with traditional polyurethane," says Giles. "Advantages include price stability, a reduction of carbon emission and improved air quality by planting more soybeans with every yard of product sold."
Landscaping represents a major industry, with water restrictions in many Western states. Synthetic turf can be used for putting greens, playgrounds, rooftops, airports, pet kennels and other areas. One of Synlawn's sister companies, Astroturf, a manufacturer of synthetic sports fields, uses BioCel technology as well. Synthetic lawn and turf use soybeans in hotels, casinos and churches across the country.
Lowe's home improvement stores offer Synlawn products across the country for consumers interested in installing their own synthetic turf. The company also has distributors across the country. You can find the one nearest you at www.synlawn.com.