Water Shortages Drive Demand for Soy-Based Artificial Turf
2015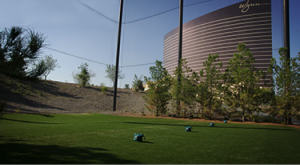 The water-deprived West is quickly realizing the benefits of artificial grass as well.  Water shortages have lawmakers, homeowners and businesses all facing brown and dead grass across neighborhood lawns, parks, cemeteries and golf courses.
In Las Vegas, Nevada, the average homeowner uses 73 gallons of water per square foot of lawn grass annually – the equivalent of 10 feet of rainfall, according to Southern Nevada Water Authority (SNWA) Conservation Manager Doug Bennett.  That's why the region has been aggressive about water-saving solutions since 1999. The Water Smart Landscapes program, which provides cash incentives to homeowners who replace ornamental lawns with more efficient landscapes, has converted nearly 4,000 acres — 173 million square feet — of lawn space. That's enough to cover nearly 3,000 football fields, according to SNWA.
Bennett reports than one in four residential landscape conversions in southern Nevada use artificial grass in some capacity. He points out that even the famed Las Vegas strip has acres of synthetic grass installed along the median and around the famous "Welcome to Fabulous Las Vegas" sign.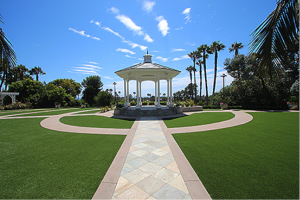 Bennett stresses the importance of integrating synthetic grass with living plants.  "It looks better and creates a more appealing effect when turf is blended with living plants," Bennett said.
Nevada's program requires that water efficient landscapes include a minimum amount of living plants.  For example, a typical lawn may consist of an area with artificial grass, a mulch or stone section, interspersed with drought resistant shrubs and trees.
"I was skeptical about synthetic grass at first because of the harsh UV environment here," Bennett said.  "I have been pleasantly surprised that artificial grass is withstanding the test of time and most has held up very well for more than ten years."