Columbia Forest Products Helps Bullitt Center Think Soy
October, 2015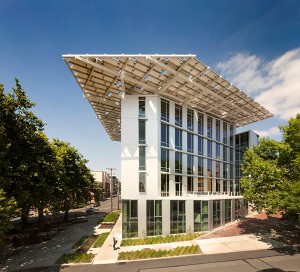 The Bullitt Center's many sustainable features include cabinets made from Columbia Forest Products formaldehyde-free PureBond Plywood.
Photo Credit Nic Lehoux
The Seattle-based Bullitt Foundation, led by the original Earth Day organizer Denis Hayes, set out to inspire a revolution of environmental construction, including the use of non-toxic materials. Billed as the "greenest commercial building in the world", the Bullitt Center is the first office building to earn the International Living Future Institute's (ILFI) Living Building certification.
Cabinets made from plywood that uses soy in the assembly technology helped the building avoid formaldehyde, one of the ILFI's 14 "Red List" toxic substances banned from interiors of their approved buildings. The Bullitt Center has pullman kitchens on each floor. The cabinets in those kitchens are made from Columbia Forest Products' formaldehyde-free Purebond® plywood.
The Bullitt Center is a 52,000 square-foot, six-story, market-rate, office building with commercial tenants. Living Building certification standards measure its sustainability. In addition to meeting a rigorous prerequisite for only using wood certified to Forest Stewardship Council (FSC) standards, the Bullitt Center builders also screened out toxic materials from building materials used inside the structure, including added formaldehyde. For its strict indoor air quality requirements, the Living Building certification at the time listed 14 substances it considered under its banned "Red List". Added formaldehyde was one of those 14 substances as it related to interior plywood; no sheet goods used inside the weather barrier contained added formaldehyde.
The U.S. Environmental Protection Agency (EPA) honored the researchers who developed the Purebond soy-based panel assembly approach with the 2007 Presidential Green Chemistry Award. According to the EPA, the technology represented the "first cost-competitive, environmentally friendly adhesive that replaced the toxic urea–formaldehyde (UF) resin." Since its full conversion to PureBond assembly in 2006, Columbia has now manufactured more than 50 million sheets, eliminating more than 300,000 tons of UF resins and the formaldehyde exposure risk to its employees, supply chain partners and customers downstream.
The technology also represented a new use for soy. U.S farmers grow more than 70 million acres of U.S. soybean plants each year, offering an abundant and renewable supply of ingredients for food and livestock feed as well as industrial products such as soy-based adhesives.
According to U.S. Department of Agriculture (USDA) data, about 600,000 U.S family farmers grow soybeans on the rough equivalent of 60 million football fields. Each year, those soybeans remove the carbon equivalent of taking 21 million cars off the road.
Federal law, the Federal Acquisition Regulation, and Presidential Executive Orders direct federal agencies and their contractors to purchase biobased products in categories identified by USDA. PureBond qualifies for mandatory federal purchasing because it meets the requirements of the USDA-designated biobased category for composite panels.
According to Columbia Forest Products, the plywood decorative panels are compliant with the U.S. Green Building Council's Leadership in Energy and Environmental Design (LEED 2009) standard, earning one point for LEED's EQ Credit 4.4 for Low-Emitting Materials: Composite Wood. PureBond decorative interior panels also satisfy the emissions standards of the California Air Resources Board (CARB) Phase 2 regulations, which will also be called for by the new LEED V4 when LEED 2009 sunsets in 2016. Upon request, PureBond products can also be supplied with Forest Stewardship Council® (FSC®) certification.
Columbia Forest Products PureBond decorative hardwood plywood panels are used to make cabinets, furniture, and a variety of other wooden fixtures in residential and commercial settings. PureBond panels are available with the industry's widest array of species, thicknesses and value-added treatments from Columbia's wholesale distributor network as well as at retail outlets like the Home Depot. Fabricated products are available through a variety of companies, including those participating in Columbia PureBond® Fabricator Network.
For more information about the Bullitt Center, go to www.bullittcenter.org or contact Brad Kahn b.kahn@us.fsc.org at 206-419-1607,
For more information about Columbia Forest Products, go to http://www.columbiaforestproducts.com/product/purebond-classic-core/ or contact Paul Davis at Pdavis@cfpwood.com or 503-243-7311.