Columbia Forest Products Helps Soy-Based Adhesive Technology Branch Out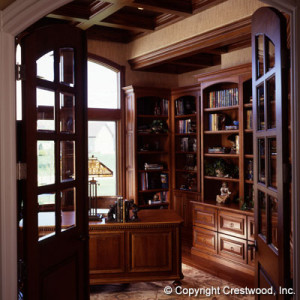 By the end of 2007, Columbia Forest Products had converted all seven of its hardwood-plywood plants from urea-formaldehyde-based adhesive systems to a soy-based formulation. The company subsequently sold more than 50 million PureBond® formaldehyde-free hardwood-plywood panels.
Encouraged by the response of DIYers who bought panels from home-improvement stores, Columbia branched out and created the PureBond Fabricator Network™ (PFN). This partnership of more than 850 craftsmen, cabinet shops and fabrication businesses identifies itself as leading-edge suppliers who are thoughtful about the material they use and the concern customers have with good air quality.
A gallery of stunning installations on the website provides design inspiration. When the time comes to find a fabricator, the interactive locator makes it easy for architects, builders, general contractors and homeowners to match their needs.
Crestwood, Inc., a high-quality cabinetry maker from Salina, Kan., was one of the first companies to join the network, citing a desire to be part of the "green" movement. The company states it is what its customers are looking for, and PureBond lets them provide a healthier alternative at no extra cost.
To learn more about Columbia Forest Products PureBond technology, visit www.ColumbiaForestProducts.com/PureBond. To learn more about Crestwood cabinetry, visit www.crestwood-inc.com.