Soy Becomes Important Part of Particle Board
January, 2007
Columbia Forest Products continues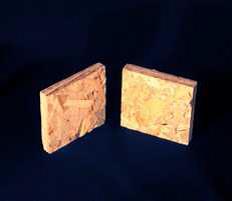 to turn to soy to help improve their line of plywood products. The company has announced that it will begin producing formaldehyde-free PureBond particle board in the first quarter of 2007. Columbia's PureBond formaldehyde-free technology involves a patented, soy-based adhesive cooperatively developed by Columbia, the College of Forestry at Oregon State University and Hercules Incorporated. Hercules has awarded Columbia a license to utilize its patented adhesive system on an exclusive basis for all of Columbia's North American decorative panel markets.
PureBond particleboard will be manufactured at the company's Hearst, Ontario, facility, which will also turn the board into finished hardwood plywood and melamine panels. "The soybean checkoff supports all industrial uses of soy," says Todd Allen, United Soybean Board New Uses chair and a soybean farmer from West Memphis, Ark. "Soy is a great, environmentally friendly adhesive, used in a wide variety of products, including particleboard."
Columbia's PureBond formula is derived naturally then enhanced with a proprietary resin, giving it a particularly strong bonding and water-resistance qualities. This process also enables Columbia to completely eliminate formaldehyde from its standard veneer-core decorative panel production. The PureBond panels eliminate formaldehyde from both press and product emissions, which is good news for everyone, including Columbia's employees.
The company's formaldehyde-free decorative panels are also compliant with the U.S. Green Building Council's Leadership in Energy and Environmental Design (LEED) standards. LEED is the nationally accepted benchmark for the design construction and operation of high-performance green buildings. The standards focus on five areas of human and environmental health: water savings, energy efficiency, materials selection and indoor environmental quality. The architectural community has put a growing focus on indoor air quality, and the formaldehyde-free panels are a great fit to improve indoor air quality.
To learn more about Columbia Forest Products and its line of environmentally friendly products
go to http://www.columbiaforestproducts.com/.