Flooring Contractors Stick with Soy-Based Adhesives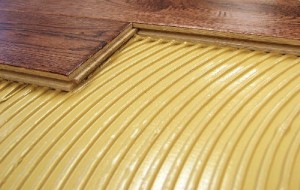 Building inhabitants touch flooring all day long. Closer to home, babies crawl on it and the family pet may even sleep on it. That's why health concerns about the effects of formaldehyde and other possible carcinogens are focusing the attention of architects, contractors and building owners on what lies underfoot.
This has led to the development of soy-based foam that replaces petrochemicals in carpet backing; soy-based floor cleaning products; and soy-based adhesives that replace formaldehyde in wood composites and in adhesives that secure flooring.
W.F. Taylor Co. has been researching ways to eliminate chemicals in floor adhesives for more than two decades. The company recently introduced a patented technology called Meta-tec® that uses soy-based feedstocks to help contractors and building inhabitants breathe easier.
According to the company Meta-tec products are low in volatile organic compounds (VOCs). They contain no harmful chemicals and are anti-microbial. The products use cross-linking chemistry technology to create a permanent bond that, when fully cured, is waterproof, extremely strong and environmentally friendly. The products are one-part formulations that replace and outperform more costly epoxy, urethane and acrylic adhesives and are easy to use, easy to clean up and very installer friendly.
Meta-tec Wood Flooring Adhesive was used in the Green Idea House, a net-zero, zero-carbon house-renovation project that Southern California Edison chose as a cornerstone case study of sustainability and efficiency in 2012. The consulting firm overseeing flooring installation on the site reported Meta-tec worked flawlessly. There was no odor, and the installers liked working with it.
In addition to excellent bonding properties for all types of wood flooring and bamboo, Taylor Meta-Tec MS-Plus Advance inhibits concrete moisture inhibition and provides sound deadening, which is important for multistoried buildings.
Meta-tec flooring adhesives are certified by the Greenguard Environmental Institute to help earn LEED credits. They come in 11 formulations that are tailored to bond-specific flooring substrates.
Visit www.wftaylor.com for more information on Meta-Tec soy-based flooring adhesives.