RePLAY® Asphalt Seal and Preservation Agent Hits the Road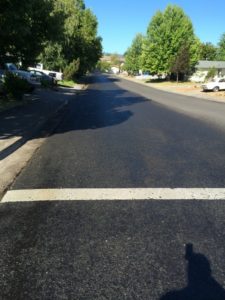 RePLAY® Agricultural Oil Seal and Preservation Agent is literally hitting the road in Minnesota, and extending the life of roadways used to transport soy derivatives from fields to factories.
The biobased sealant, which contains a minimum 61 percent soybean oil and derivatives, penetrates asphalt and helps to reverse the oxidation process on or below the surface. It also helps repair surface hairline cracks.
Asphalt surfaces typically last 10 to 12 years when sealed. BioSpan Technologies, who manufactures the product using patented soy technology developed with USB research support, says RePLAY can extend the road life two to three times longer.
In Minnesota, there have been over 400 applications of RePLAY on city streets, parking lots, trails, and county roads, covering approximately 150,000 lane miles. Since it is a clear, non-petroleum-based sealant, the lines on the roads do not have to be repainted, which provides a significant savings of time and money.
The company says RePLAY not only extends the life of asphalt surfaces, but cuts down on labor costs, reduces road closures during application, and eliminates the harmful fumes of petroleum products used for road maintenance.
"We looked at how the roads are lasting," said Mike Youngerberg, director of product development and commercialization for Minnesota Soybean Research and Promotion Council who helps coordinate product field trials. "In Hutchinson, a number of streets are way past the five-year time frame (when roads typically need a chip-sealing repair), and they look as good as possible," he says.
During a recent field application, Youngerberg observed one length of road in particular was not even cracked around the manhole covers or on the edges, areas that typically need repair sooner than others. Similar field trials are being conducted in municipalities across the U.S. to demonstrate RePLAY cost and performance advantages.