Soy Improves Abrasion Resistance in Conveyor Belts
Performance advantages in rubber applications using soy technology prompted WCCO Belting, Inc. to conduct a three-phase project to investigate possible use of soybean oil in its conveyor belting products.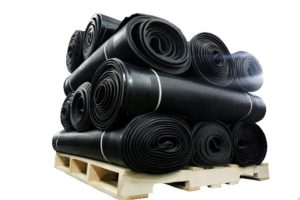 During the first phase of the project, WCCO and its rubber vendor examined the physical properties of a soybean oil rubber compound in comparison to WCCO's equivalent aromatic oil compound. The engineers obtained exceptional test results. By replacing the aromatic oil with soybean oil in the proper proportion, they achieved a moderate increase in abrasion resistance while maintaining all other physical properties, including tensile strength, tear strength and puncture resistance. Abrasion resistance is a main feature and benefit that the rubber belting industry promotes.
The second phase of the project investigated soybean oil viability through belting production stages: rubber compound mixing; the calendering process (performed by WCCO's wholly owned subsidiary); and the extruding, molding and vulcanizing procedures completed by WCCO internally.
The principal investigator of the project, WCCO's Senior Product Development Engineer Mark Beyer, determined that the soybean oil rubber compound successfully matched the processing benchmarks set by the current compound made with aromatic oil.
With United Soybean Board research support, the final phase of testing assessed the ability of the soybean oil rubber belting products to perform to industry specifications. WCCO focused on testing its main three product lines for the initial launch: RAPTOR® draper belting for combine harvest headers and swather equipment, baler belting for baler equipment and conveyor belting for tube-conveyor equipment.
The belt made from soybean oil is the first in the company's line of rubber products made from sustainable materials, called TerraTech™. The soybean-oil rubber technology can be used in the agricultural industry on swathing equipment, combine headers and conveyor belting and in the light industrial, construction, sand and gravel, packaging and recycling industries.