Thinking Sustainability? Think Soy.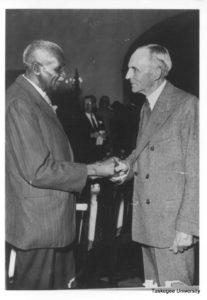 The versatile chemical composition of soybeans makes it possible to replace petrochemicals and other ingredients with soy derivatives to produce "greener," more environmentally-friendly products, without sacrificing performance or competitive pricing.
The idea isn't new. In fact, Henry Ford and George Washington Carver shared a vision of using soybeans and other natural derivatives to make plastics, paint, fuel and other products. Following World War II, petrochemicals replaced soy feedstock in many industrial products, due to their availability and cost. However times, and economics, have changed.
These days, manufacturers are incorporating soy into formulations to:
Reduce dependency on petroleum and associated price fluctuations for raw materials
Replace suspect carcinogens
Differentiate and improve product performance
Improve corporate sustainability practices while reducing regulatory compliance and insurance costs
Make products eligible for higher LEED credits
Improve production with an uninterrupted, abundant supply of biobased renewable raw materials
Soybean oil has been proven to be an effective and economical ingredient in products ranging from polyurethane foam to plastics, paints, rubber, and lubricants. Soybean meal is used to make plastic composites, synthetic fibers, paper coatings and formaldehyde-free adhesives.
Lifecycle assessment studies show using soybean oil as a raw material can help lower carbon dioxide emissions during production, lower production energy costs and lower the volatile organic content (VOC) of products.
The United Soybean Board (USB) invests in research, promotion, marketing and commercialization programs to help expand and develop industrial markets for U.S. soybeans. Please check out the hundreds of case studies, research and technical reports on this site and contact us to learn how you can make your products more sustainable when you Think Soy.
This website is provided for information only. The United Soybean Board does not endorse, promote or make any representations regarding any specific suppliers mentioned herein. This website contains links to websites owned by other companies and organizations. USB has no control over the content of these linked sites. USB is not responsible for the content on websites outside of the USB family of websites.