Ford Expands Successful Use of Soy
September, 2010
Ford Motor Company has used soy-based foam for seat cushions, seatbacks and vehicle headliners for several years and today more than 2 million Ford, Lincoln and Mercury vehicles contain biobased foam content. The soy foam seating came about due in part to a partnership with the United Soybean Board (USB), and now Ford expands its use of soy-based products to rubber as well.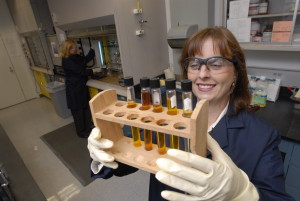 By using renewable soybean oil as a 25 percent replacement for petroleum oil, Ford researchers more than doubled rubber's stretchability and reduced its environmental impact. Soy-based rubber parts such as radiator deflector shields, air baffles or deflectors, cup holder inserts and floor mats may be installed in future Ford vehicles.
The scope of Ford's recent rubber research, which was funded in part by USB, included the use of soy fillers, such as soy flour and soybean meal, as well as soybean oil.
"Ford is focused on finding innovative ways to make our vehicles more eco-friendly," says Cynthia Flanigan, Ford technical leader in elastomeric polymers. "Soy-based rubber provides superior stretchability and serves as a renewable resource that helps reduce carbon dioxide emissions from raw materials."
"It doesn't matter if it's a green product if it doesn't work," says USPS Resource Conservation Specialist Ronald Robbins, whose efforts have been helping the USPS win CTC awards since the award's first year in 1995. "We didn't go out looking for a soy-based mastic remover; we looked for a mastic remover that works. And the soy-based product works."
Ford researchers found that soy fillers could provide an inexpensive and environmentally friendly partial replacement of carbon black, a petroleum-based material traditionally used to reinforce rubber. Used together, soybean oil and soy fillers could replace up to 26 percent of the petroleum-based content in automotive rubber applications.
According to the International Rubber Study Group, the automotive sector accounts for more than 50 percent of worldwide rubber consumption, which exceeded 22 million metric tons in 2008. Analysts expect automotive rubber usage to rise more than 4 percent through 2013. To read learn more about Ford's soy-based products, visit www.ford.com.