Soy Biobased Penetrating Lubricants & Spill Sorbents Succeed in DLA Demonstrations
2015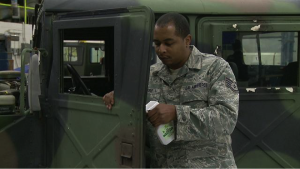 Sergeant Daniel F. Moore, 628th Logistics Readiness Squadron (LRS), Joint Base Charleston (JBC), applying BioBlast penetration lubricant to High Mobility Multipurpose Wheeled Vehicle (HMMWV) door latch.
After successful performance evaluations, the U.S. Department of Defense (DoD) Defense Logistics Agency (DLA) has officially introduced soy biobased penetrating lubricants and a spill sorbent into the federal buying system.
Now DLA customers can easily identify and buy these soy biobased products as an alternative to petroleum-based counterparts with the knowledge that they meet DoD product specifications and performance requirements.
On behalf of DLA Aviation, the National Defense Center for Energy and Environment (NDCEE) operated by Concurrent Technologies Corporation (CTC), evaluated the products as part of the Green Product Evaluation and Demonstration Program. The evaluation included two soy-based penetrating lubricants and a soy-containing spill absorbent:
"The products were tested in 2010 and 2011 at eight Tri-Service DoD installations and achieved equal to, or better performance, ratings than the existing petroleum-based products," reports CTC's Director of Green Programs George C. Handy II, who oversaw the NDCEE's field demonstrations.