Soy-Based BBQ Grill Cleaner Can Take the Heat
May, 2009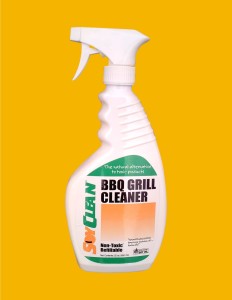 The United Soybean Board and soybean checkoff fund research and development of potential new uses for soy, including soy-based grill cleaners.
One example of soy-based grill cleaners comes from SoyClean, a Brooklyn, Iowa, company that boasts a biocontent ratio of at least 61 percent across a wide variety of solvents, lubricants and sealants. The company's BBQ Grill Cleaner makes grill cleanup easier on the chef and the environment.
With a kauri-butanol value of 58, soy's natural characteristics make it an excellent solvent, even compared with its non-biobased counterparts. In fact, The Wall Street Journal found SoyClean's BBQ Grill Cleaner outperformed the "less natural ones."
"In addition to the outstanding performance, there are no toxic fumes to worry about," said Kurt Brannian, SoyClean's director of marketing.
"If you've ever had to put up with a noxious oven or grill cleaner in the past, you'll find SoyClean's Grill Cleaner an absolute joy to work with."
All SoyClean products, including the BBQ Grill Cleaner, are nontoxic, low in volatile organic compounds and third-party certified to contain a high percentage of biocontent. SoyClean's BBQ Grill Cleaner contains 91 percent biocontent, according to testing at Iowa State University.
To learn more about BBQ Grill Cleaner and other soy-based products from SoyClean, visit www.soyclean.biz.